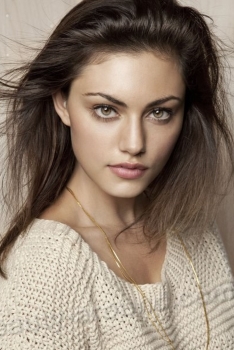 ** After payment please send screenshot of payment to email: This email address is being protected from spambots. You need JavaScript enabled to view it.

* ATTENTION: Paypal votes may be counted duaring 12 hours after payment

Share with your friends and your favorite actor (actress) will be have more votes :
Results of voting:"Most Beautiful Australian Woman"
Phoebe Tonkin is the charming Australian model and the actress who has acted in a popular TV series "The Vampire Diaries".
Biography
Phoebe Tonkin (her full name is Phoebe Jane Elisabeth Tonkin) was born in the Australian city of Sydney. Birth date is July 12, 1989. Parents early have seen creative capabilities of the child and therefore Phoebe had an opportunity since four years to be engaged in dancing studio. She studied both classical and modern dances, and has shown fine results in training.
In 12 years the girl has decided to learn also acting skills, for this purpose she has begun occupations in the Australian youth Wharf Theater. The young beginning actors put performances according to Shakespeare's plays, also there was in their repertoire a clownery, musical representations.

Phoebe Tonkin

got the general education at school for girls at which worked the well known by its performances theater. And the girl also received roles in plays "White Crane", "Venetian Twins" and others. Annual participation in Shakespearean festivals became one more stage in theatrical education of Phoebe where she has even won the first place in one of them.
Creative career
After school future celebrity also continued playing in theater. And in one of plays she was seen by theatrical agents. Thanks to them the girl was invited to act in TV series "H2O: Just Add Water". In this movie Phoebe Tonkin played the charming mermaid.
The following stage in creative career was a successful passing a casting in TV series "The Secret Circle". In this project she played a role of the girl with very shitty nature.
The girl received the invitation to act also in promotional video for enough known brands which also increased experience of the beginning actress.
One of the most successful roles in Phoebe Tonkin's filmography is a role in the popular youth TV series "The Vampire Diaries". There the young woman has played the beautiful girl werewolf. After these TV series Phoebe was invited to act in The Originals project.
Private life
During shootings in mystical TV series "The Vampire Diaries" Phoebe Tonkin has got acquainted with the charming actor Paul Wesley, which was playing one of the main characters. Between young people the romantic relationship has begun, and all their admirers hope for the happy final of the novel.
Interesting facts
Phoebe Tonkin conducts also active public, social life. She participates in various social projects, in charity. Also, the actress likes to act in a TV show.