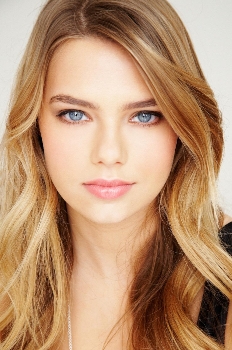 ** After payment please send screenshot of payment to email: This email address is being protected from spambots. You need JavaScript enabled to view it.

* ATTENTION: Paypal votes may be counted duaring 12 hours after payment

Share with your friends and your favorite actor (actress) will be have more votes :
Results of voting:"Most Beautiful Australian Woman"
Indiana Evans is a popular Australian singer and the beginning actress whose popularity was brought up by the role in TV series "H2O: Just Add Water»
Biography
Indiana Evans was born in Sydney on July 27, 1990. Actresses' full name is Indiana Rose Evans. In the early childhood at the girl were noticeable abilities to singing, she liked to participate in various representations. The father and the mother tried to maintain such daughter's interests and, in addition to school, she could be engaged also in creativity.
Indiana Evans well studied at school. But most of the time in the girl's life was taken by occupations with singing, acting skills.
Creative career
Indiana Evans

since the early childhood dreamed of an actor's profession, and after graduation, she began searching opportunities for implementation of the dream. The girl visited various castings on which the staff of model or actor's agencies could notice her. Evans possesses attractive, bright appearance therefore all her efforts surely would achieve success.
In 2003 good luck has smiled to the Australian beauty. She was invited to Millie Roberts's role in TV series "All Saints". The beginning actress perfectly has completed the task, could create the memorable image.
The success was brought up to Indiana by a role of the mysterious mermaid in popular youth TV series "H2O. Just Add Water", which was removed by several seasons and has purchased a large number of admirers.
Actor's career gradually developed, and Indiana Evans has begun to receive an increasing number of offers. She enhanced the professional skills, followed an example in work of different famous actors. Most of all girl was inspired by such actresses as Keith Blanchett, Cameron Diaz.
The role in rather difficult movie about murder Caroline Burn became the next stage in works of the beginning actress. The last films with her participation were "Janet King", "Secrets and Lies".
Interesting facts
Indiana Evans acts as the singer much; also she regularly receives offers for shootings from different directors. But the young girl finds time for social work. She is the ambassador of popular movement of Dolly Bullying Campaign which purpose is the fight against intimidation and violence at school.
Private life
Indiana Evans possesses a charm and beauty and she has many admirers. The first girl's love story was begun with the actor Rhys Wakefield, but in 2006 the couple has broken up. Now journalists attributed to her relationship with the actor Alex Williams.