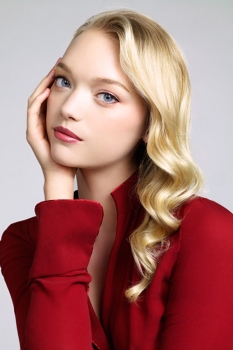 ** After payment please send screenshot of payment to email: This email address is being protected from spambots. You need JavaScript enabled to view it.

* ATTENTION: Paypal votes may be counted duaring 12 hours after payment

Share with your friends and your favorite actor (actress) will be have more votes :
Results of voting:"Most Beautiful Australian Woman"
Gemma Ward is an Australian model and actress.
The Biography
Gemma Ward was born in Perth, Australia on the 3rd of November, 1987. The future actress' parents worked in a hospital as a doctor and nurse. The family brought up three more children except for Gemma. It was her elder sister and two brothers.
The girl was educated in a regular way. She learned at the Presbyterian Ladies' College. After finishing the school she enriched her education by entering Shenton College.
Gemma Ward has a unique appearance and seems a beautiful sprite or a fairy princess to many people. No surprise, that the girl attracted the attention of modeling agencies being a teenager yet. When Gemma was 16, she was offered to work as a model for a famous magazine Vogue. The beauty had also advertised the new collections of the most famous designers in the world.
The girl spends a sheer of time in photo sessions. Her photos decorated the most popular glamor magazines.
In 2005, the Chinese version of Vogue signed a profitable for Ward contract. The shooting in commercial for a new fragrance by Calvin Klein was her next successful checkpoint in her modeling career. Later on, Gemma became a fame of the perfume. The girl was paid high honorary for her work.
The Acting Career
Gemma's modeling career is successful enough, Nevertheless, the young woman arrived at a decision to start an acting career too. All her benefits – an attractive appearance, the ability to work on camera, diligence – encourage the Australian to cope with acting career.
In 2001, she was offered to shoot for John Mayer clip "Daughters". The model coped with this creative work in a brilliant way. After that, she took proposals to shoot in the cinema. Her first little role belonged to a film "Pink Pyjamas".
Gemma Ward managed to play an episode role in the popular cinema story "Pirates of the Caribbean".
In 2013, she was offered a role in a splendid film "The Great Gatsby". She was lucky enough to work with Leonardo diCaprio in one shooting stage.
Recent years, Ward stopped performing on the runways and dedicated herself fully to a cinema.
Gemma Ward Private Life
The most famous love affair in the Australian model and actress's life was held with Heath Ledger. It lasted several months. Being young and talented, Gemma and Heath build many plans for common future. They spend leisure time together. But the happiness was abrupt by Heath Ledger's death. The actress was stressed by this event deeply. Now Gemma Ward has relationships with male model David Letts. They bring up common daughter. The family lives in New York.