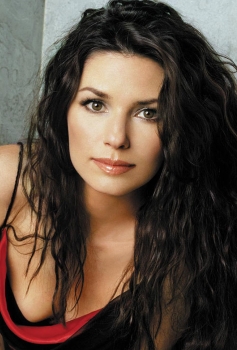 ** After payment please send screenshot of payment to email: This email address is being protected from spambots. You need JavaScript enabled to view it.

* ATTENTION: Paypal votes may be counted duaring 12 hours after payment

Share with your friends and your favorite actor (actress) will be have more votes :
Results of voting:"Most Beautiful Canadian Woman"
Shania Twain is a popular Canadian singer. She is famous in the genre of pop and country music.
Biography
Shania Twain ( her real name Eileen Regina) was born in 1965 on the 28th of August in Ontario County, in the town of Windsor. Mom`s second marriage was to an Indian Jerry Twain. Shania spent almost all her childhood in Ontario. The family was very poor and little girl began to perform in clubs and bars to earn at least some money for her family. At the age of 8 years old and she had a great singer talent. It was a real challenge for the child - to perform around the adult audience, but the future singer was able to overcome the fear.
Shania Twain performed at the prestigious Canadian competition for young talents when she was 11. She performed her own song there and it was really important. Taking part at " Canadian Country Music Awards" has attracted the attention of music critics and soon they began to invite the girl to take part in various TV and radio shows.
The tragic event happened in Shania`s life in 1987, her parents died in a car accident. The older sister was married and lived independent life, so Shania had to take care of the family. It was a great luck because the girl did not have to throw the music lessons, she started working in the show at one of the hotels and the work gave her an opportunity to earn enough money for her family.
Her career
Working in the musical show took much time, but Shania Twain found the opportunity to write her own songs and offered it in different music studios. Soon the company "Mercure Records" invited her in Nashville for recording her first album. Nashville is considered to be the capital of country music.
Her nickname - Shania Twain - appeared in Nashville. Work on the first album was hard for the girl because producers make the girl to sing not her own songs, but other people songs. There were no success after issuing the first album, but it received good review from music critics.
Meeting with producer Robert John Lange had a great value for singer`s career. He became interested in Shania`s songs and helped her on the way for the glory. He advised to perform songs in a genre of country and rock.
Album called "Come and Over" had a great success and it was in the list of best-selling albums of the contemporary music category. It was country style album.
Personal life
Robert Lange was Twain`s first husband. Nowadays she is married to Frederic Thiebaud. Shania has a son from her first marriage.