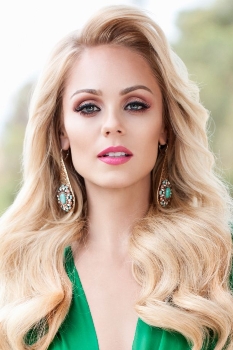 Paid voting
Votes
Price,
$
Bank transfer

5400

180

** Request to This email address is being protected from spambots. You need JavaScript enabled to view it.


3600

120

1800

60

600

20
details

300

10

200

7

100

4
** After payment please send screenshot of payment to email: This email address is being protected from spambots. You need JavaScript enabled to view it.

* ATTENTION: Paypal votes may be counted duaring 12 hours after payment

Share with your friends and your favorite actor (actress) will be have more votes :
Results of voting:"Most Beautiful Canadian Woman"
Biography
Laura Vandervoort was born in Ontario, Toronto in 1984 on the 22th of September. Her childhood was in Ontario too. Her mother is a Canadian and father Dutch. When Laura was born she got an illness meningitis, which lasted for a few month. It was a little chance to survive for her. When she grew up, Laura started playing football, karate, tennis, baseball, gymnastic and other kinds of sport. She has a sister Sarah.
Laura`s career
When she was 13 years old she started an actor career. Firstly Laura Vandervoort had several actor classes and then she was invited for background role in "Road to Avonlea" and " Harrient the Spy". There were popular Canadian TV-shows, after backgrounds role she had the first speaking role in " Goosebumps" and " Are You Afraid of the Dark" - Canadian movies for children.
Laura Vandervoort had many commercials and background roles in " Prom Queen", "Mutant X", "F.B.Eye" and other popular films. Also she had roles on Disney Channel. Vandervoort started to attend York University at 19th years old. There she studied Psychology and English. While studying she was invited for the lead role on the CTV drama for teens "Instant Star". Laura played Sadie Harrison for all four seasons.
With Joseph-Gordon-Levitt, Isla Fisher and Jeff Daniels Laura Vandervoort shot the first featured titled " The Lookout" in 2006 year. She also was seen in "CSI: Crime Scene Investigation" and on TV series "Smallville". In "Smallville" Laura appeared regularly in the season seventh and then fans could see her in the season ten and in final episodes of serial.
Laura Vandervoort also starring as Jessie Machalan in "Riverworld" in 2010. Then in the year of 2011 she had a role in the movie thriller "The Entitled".
Laura appeared nude in cause of protest against the keeping in captivity marine mammals. After this Laura had a small roles in the popular comedy film "Ted", where she played Tanya.
She also was seen in the adaptation of the novel "Bitten". It premiere was on the 13th of January in 2014.
Personal actresses' life
Laura Vandervoort became engaged an actor Oliver Trevena. Now couple lives in happy marriage in Los Angeles, California.