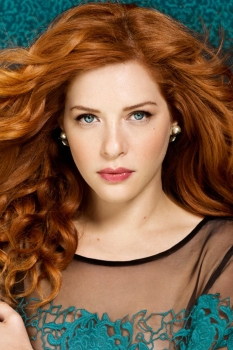 Paid voting
Votes
Price,
$
Bank transfer

5400

180

** Request to This email address is being protected from spambots. You need JavaScript enabled to view it.


3600

120

1800

60

600

20
details

300

10

200

7

100

4
** After payment please send screenshot of payment to email: This email address is being protected from spambots. You need JavaScript enabled to view it.

* ATTENTION: Paypal votes may be counted duaring 12 hours after payment

Share with your friends and your favorite actor (actress) will be have more votes :
Results of voting:"Most Beautiful Canadian Woman"
Rachelle Lefevre is a Canadian actress. She became famous after the role of the vampire Victoria in "Twilight."
Biography
Rachelle Lefevre was born in the Canadian city of Montreal on the 1st of February in 1979. Parents of the future actress was humanitarians, mother was an English teacher and father was psychologist. The Rachel family were French, the Irish, the Jews. Such a mixture of blood affected the appearance of the girl and her character. Parents raised three more daughters, Rachelle`s sisters.
Since childhood Rachelle Lefevre had interest in art and literature. During school holidays she studied the history of art in the Dawson College.
In her free time she studied literature at the University of McGill University and studied acting at Walnut School.
Rachelle`s level of educational training was very high, but she dreamed of becoming an actress to have roles in a beautiful films.
Her career
Before becoming an actress Rachelle Lefevre tried herself in other professions. She worked as a waitress, a producer on the television. Then she decided to had audition for one of sitcoms. She had not real portfolio, just a simple photos. This casting the charming Canadian has not passed, but soon she was invited to the role in the mystical film "Big Wolf on Campus".
Rachel starred in the movie "Confessions of a Dangerous Man" in 2002 and her partner in the movie was George Clooney.
Time passed and the actress became more popular. Many directors and producers was attracted be charming young actress. She starred with Penelope Cruz in the romantic movie "Noel" in 2004. She starred with Penelope in the movie "Head in the Clouds" soon.
The next part was in the mystical film "Death on the river". Actress is very lucky on the roles of the mysterious plan. There are a lot of such kinds of films in her filmography and you can also see names such as "Charmed," "Twilight" (some parts).
Saga "Twilight" was a special stage in Rachel creative career. Impressive appearance of the actress allowed her to create a vivid image of a vampire. The invitation to play in a story about the life of a vampire Rachelle Lefevre greeted enthusiastically and take great pleasure in playing in the movie. She starred in the first two parts of the saga and in the third she was replaced by another actress. The vampire Victoria made Rachel famous and gave her the love of many viewers.
Among the last works - role in the movie "Under the Dome", "Internal front".
Personal life
Reporters noticed the affair with Jamie King. He had role in the TV series "The Tudors." The future will show how the relationships end.