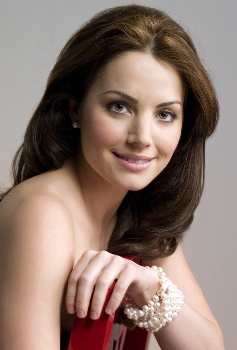 Paid voting
Votes
Price,
$
Bank transfer

5400

180

** Request to This email address is being protected from spambots. You need JavaScript enabled to view it.


3600

120

1800

60

600

20
details

300

10

200

7

100

4
** After payment please send screenshot of payment to email: This email address is being protected from spambots. You need JavaScript enabled to view it.

* ATTENTION: Paypal votes may be counted duaring 12 hours after payment

Share with your friends and your favorite actor (actress) will be have more votes :
Results of voting:"Most Beautiful Canadian Woman"
Biography
Erica Durance was born in 1978 on the 21th of June in Calgary (Canada). Her childhood was on her parent`s turkey farm in Three Hills. Erica has older brother and a sister, who lived on the farm together with her. She started to sing from being a child. Then, in 1999 Erica Durance was graduated from high school and Durance family moved to Vancouver. In Vancouver she wanted to make a professional actress career, so she studied at "Yaletown Actors Studio".
Early career
Erica Durance began to play in small episodes in films, serials and TV-shows. Firstly she had only guest-starring roles. Then there were her debut like an actress in the movie " The Untold" in 2002.
On the popular TV-Show " Smallville" Erica Durance firstly gained fame in 2004. Her role was a teenage girl Lois Lane, which appeared in the show in the fourth season. For next seven season Erica played Lois Lane. Actress has received Saturn Awards for this role on the "Smallville".
While playing in "Smallville" she also appeared in the line of films, including popular "Butterfly Effect 2". She also played a successful thirty-year-old woman who wants to marry herself in the film "I Me Wed". After this film actress was nominated for a Gemini Awards.
In 2012, January Erica Durance appeared as guest star in the NBC project " Harry`s Law" and in the same year fans can saw Durance in the film "Tin and Eric`s Billion Dollar". Actress also played twin sister in the Italian mini-serial.
Durance started playing in "Saving Hope" from summer 2012. She was not only an actress but also the producer of the movie. Durance was pregnant while there were the third season of TV-series and it was worked into Erica`s character too.
Erica`s personal life
From 1996 to 1999 she was married Wesley Parker. Then in 2001 she began dating David Palffy, who was an actor, director and writer. Couple got married in 2005, on the 5th of January. Erica was pregnant in 2014 and in February 2015 she gave birth to her first child. Family moved to Vancouver.