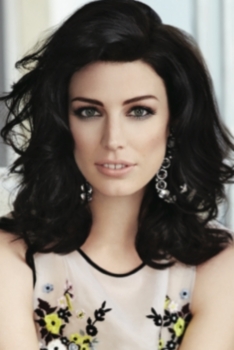 ** After payment please send screenshot of payment to email: This email address is being protected from spambots. You need JavaScript enabled to view it.

* ATTENTION: Paypal votes may be counted duaring 12 hours after payment

Share with your friends and your favorite actor (actress) will be have more votes :
Results of voting:"Most Beautiful Canadian Woman"
Biography of Jessica Pare
Jessica Pare was born on the 5th of December in 1980 in Montreal in Catholic family. Her childhood was in the neighbourhood of Notre-Dame-de-Grace. She has three brothers. Her family speaks English and French, so Pare speaks fluently both languages.
The career of little actress started from the small TV role in the film "Bonanno: A Godfather`s Story". She played in the film during the last school year. Then Jessica`s career began to grow up and her second role was in the film "Big Wolf on Campus". Next two years she had a small pause in actress career and worked as a photographer`s assistant.
After she played in "Stardom" Jessica Pare was voted one of the twenty five most popular and beautiful Canadian by the magazine, but it was not serious for her.
First great role
Real popularity gave the film "Lost and Delirious", which was released in 2001. It is the romantic story of two young girls, who love each other.
Her Hollywood debut was in the 2004 after the film "Wicker Park". That year she also had a role in popular drama for teens called "Jack and Bobby".
Jessica Pare also began to play bass guitar for the horror-comedy called "Suck". The comedy was premiered at Toronto International Film Festival in 2009. She was nominated for a Canadian Comedy Awards in 2010, for the most popular and best female role in the film.
Jessica`s private life
The actress married Joseph Smith in 2010, he is writer and producer. Soon in the 2012 there were some reports about her dating with John Kastner. Couple has a baby, who was born on the 19 of March in 2015. The name of their son - Blues Anthony Pare Kastner. Jessica is a vegan and catholic.
Filmography
From the 1999 to the real time Pare had a great list of roles. There are many short roles in television films, like "Posers", Peepers", " Brooklyn", "Lost and Delirious" and main roles in tv-projects, for example: "Napoleon", "Life" and the last - " Satisfaction".
Nowadays Jessica Pare is not only an actress but also musician producer. She made music project called Suck the Winner in 2008 and sometimes play bass-guitar there. Also Jessica write texts for the project. All the musicians took part in the film in 2009 with many popular rock musicians, like Alice Cooper and Iggy Pop.