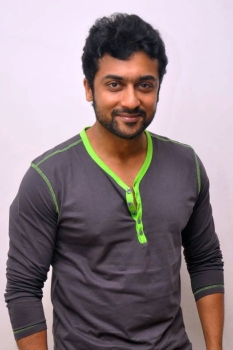 Paid voting
Votes
Price,
$
Bank transfer

5400

180

** Request to This email address is being protected from spambots. You need JavaScript enabled to view it.


3600

120

1800

60

600

20
details

300

10

200

7

100

4
** After payment please send screenshot of payment to email: This email address is being protected from spambots. You need JavaScript enabled to view it.

* ATTENTION: Paypal votes may be counted duaring 12 hours after payment

Share with your friends and your favorite actor (actress) will be have more votes :
Results of voting:"The best South Indian actor"
Suriya Sivakumar is a young and perspective Indian actor, who won the viewers affection and good cinema critics' reviews.  
The Biography
The future celebrity was born in Chennai. Suriya is a scenic name, his full real name is Saravanan Sivakumar.
His father was an actor and knew well all the difficulties of cinema profession. So, he did not want his son to became an actor. In his opinion Suriya must try himself in other spheres first and than only began thinking about acting career.  
The young man entertained his father's opinion and finished school at first, than he got an economical education and tried himself as a company's manager. He worked at factory, producing clothes.
But after a while, Suriya understood that he has acting in blood. There was a good reason in his birth and brining up in artistic atmosphere. That is why the young man tried himself as an actor in spite of steady work.    
The Acting Career
It is hard to call Suriya's first roles successful, and the acting career beginning was not perspective. The films, he cast within 1997-2000 was not understood by viewers and was not noticed by cinema critics.  
The beginning actor gain first success in 2001 only. The picture "Nandha" was launch at Indian screens. The viewers took the film and the young actor's playing warm. He even got the Filmfare Award for The Best Male Role.
The next several works are considered to be works of medium success. The pictures didn't create any sensations and passed silently though cinema world. Suriya had to pley different genres roles, but most of them were comedian ones. Suddenly the film directors, critics and even Filmfare Award noticed his talent as a comedian actor.          
Suriya's professional skills grew work to work. He was trusted to play more serious roles in pictures, which were going to became blockbusters. Suriya had to play double role in one of the next picture with his featuring. The characters were quite opposite – a successful boxer and a cripple boy. He managed this double role successfully and won one more Filmfare Award.
The film "Maayavi" was appreciated by critics well too. "Ghajini" and "Aaru" can be considered as the most  box-office successful. These film' actor cast became a real Indian cinema stars. Suriya was inspired for new works thanks for success, confession and viewers' love. He also decided to try himself in a new way and founded a film director's company. This company had an unusual work direction – it was busy promoting films around Chennai, his native place.     
Suriya met his future wife on shooting stage. She is also a very popular in India actress. Than Suriya's acting career stopped for a while for he became a father.  
Now Suriya features less films, but all of them successful. His last work is "Vaaranam Aayiram." The young man played two roles in film – of father and his son.
The Private Life
Suriya Sivakumar was married to actress Jyothika, whom he met during featuring a film. This is quite typical love affair's beginning for actors.
The young couple is happy in marriage. They brought up a beautiful daughter Diya, who was born in 2007, and a son Dev (2010 year of birth).   
The Filmography
2001 – "Friends," "Nandha"
2002 – "Unnai Ninaithu," "Mounam Pesiyadhe"
2003 – "Kaakha Kaakha," "Pithamagan"
2004 – "Perazhagan," "Ghajini»
2005 – "Ghajini," "Maayavi," "Aaru," "June R"
2006 – "Sillunu Oru Kaadhal"
2007 – "Vel"
2008 – "Vaaranam Aayiram"
2009 – "Aadhavan," "Ayan"
2010 – "Rakta Charitra I," "Rakta Charitra II," "Singam"
2011 – "7aum Arivu"
2012 – "Maattrraan"
2013 – "Singam II"
Some Interesting Facts
In "7aum Arivu" Suriya had to play the role of Bodhidharma, an ancient prince lived in the 5th century in China. For a long time Bodhidharma lived there in order to became a Zen master. Suriya went to China in order to feel more comfortable with the world of martial arts. He was ravished by obeisance, which is given to martial arts and cultural heritage in this country.
The actor learned the basics of martial arts of Shaolin monks during shootings. A stuntman from Hollywood helped him to do this.  
Suriya began practicing vegetarianism in sake of shootings. He had practiced during two months. Though it was enough to show the responsibility that the actor bears to his work.