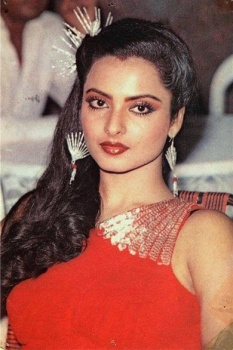 ** After payment please send screenshot of payment to email: This email address is being protected from spambots. You need JavaScript enabled to view it.

* ATTENTION: Paypal votes may be counted duaring 12 hours after payment

Share with your friends and your favorite actor (actress) will be have more votes :
Results of voting:"The best Indian actress"
Rekha is a mysterous legend of Bollywood, a talented actress, whose eyes hide many secrets.
The Biography
"Rekha" is a stage name of Bhanurekha Ganesan.
The future celebrity was born on 10th of October, 1954. The girl's parents were famous Indian actors. Unfortunately, they were not married when Rekha was born. Her father didn't want to give her his last name long after daughter's birth.  
This was only her mother who brought up Rekha and her six brothers and sisters. Children had pity to their mother and not all of them had finished the school for they began earning money for family living.
The beautiful Bhanurekha was offered a small role in a film at the age of 12. At that time she was a little fat and couldn't pretend at leading roles. That's why she was happy to get secondary roles. The work as a secondary actress helped her in gaining useful experience. Two years later young Rekha worked convince on camera and knew many aspects in cinema business. At that very time she was lucky to get into Bollywood, which is so desirable for many actors.
Working at this large cinema company, she used the experience accumulated for several years before. Rekha was still a teenager but she felt more convinced than many popular actors, producers and film directors.              
The Acting Career
Rekha began featuring film very early. So, her filmography contains many vivid works of different genres. The talented young actress was constantly invited to cast different TV shows.
For a long time she played secondary roles, but the girl didn't refuse them. She knew that patience and hard work would be surely rewarded. And this come true for film director began giving her more serious roles, which needed a real professionalism and talent. The actress could take part in six-seven successful pictures a year.
Rekha had a real success after meeting a famous actor, TV-emcee Amitabh Bachchan. This attractive man changed both actress' destiny and her character and image. She was a little shoddy before meting him, and aftermath she became a calm, gentle girl. She revealed her native attractiveness. Several years later, her love affair with Bachchan was over for the emcee returned to his wife.   
The picture "Do Anjaane" brought Rekha the first success and the glory. The actress got the Filmfare Award for featuring next film "Ghar".
Each new role proved Rekha as a Bollywood star.
Her works were vivid and emotionally strong, especially "Umrao Jaan".
The actress won many awards in 80-s. These years are considered the time of her high days in acting career.  
The ability to dance helped the actress to express many characters in a talent way.  
The actress features many films now. Though, she chose only that roles which are really very interesting. She has not a family, children. That's why she found the main goal in her life in cinema. She always loves charity.  
Rekha's last works approves her talent and professionalism. The viewers were pleased by pictures "Sadiyaan," "Parineeta," and "Kudiyon Ka Hai Zamana." The actress looks great in life and on camera, though she had to play age-related roles now.  
Rekha's Private Life
Rekha had vivid love affair with an actor Amitabh Bachchan. The man was married at the moment of acquaintance with an attractive actress. After a while, he temporarily cut loose from family in sake of her. Rekha hoped that the love affair would have a serious result and waited for marriage proposal. Unfortunately, the relations ended in a sad way and the actors' couple broke. Bachchan returned to his wife.       
Than the young woman got married to Mukesh Aggarwal. He was quite successful businessman and their marriage could be very happy. But soon the actress came across the troubles again for her husband was inclined to suicide and in the end he committed it.
The actress didn't want to marry again after that event. At this moment she is free and can devote all her spare time to cinema.  
She lives with her secretary Farzana and nephew, whom she helps in arranging life.
The Filmography  
1970 – "Sawan Bhadon"
1971 – "Elaan"
1972 – "Gora Aur Kala," "Ek Bechara," "Do Yaar"
1973 – "Kahani Kismat Ki," "Anokhi Ada," "Namak Haraam," "Keemat"
1974 – "Duniya Ka Mela," "Woh Main Nahin"
1975 – "Zorro," "Aakraman," "Dharam Karam"
1976 – "Santan," "Do Anjaane"
1977 – "Kachcha Chor," "Alaap," "Ram Bharose"
1978 – "Dil Aur Deewar," "Bhola Bhala," "Parmatma"
1981 – "Chehre Pe Chehra," "Umrao Jaan"
1984 – "Asha Jyoti," "Utsav"
1989 – "Kasam Suhaag Ki"
2003 – "Krrish," "Bhoot"
2006 – "Parineeta"
2010 – "Sadiyaan"
2014 – "SuperNani"
The Awards
Rekha can be proud of many wins for her art. Filmfare Award marked her as The Best Actress more than once. She was always awarded for her life-time achievements.