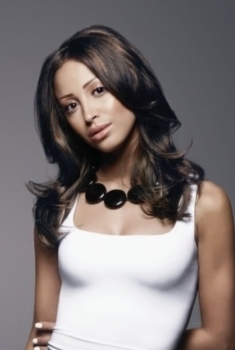 ** After payment please send screenshot of payment to email: This email address is being protected from spambots. You need JavaScript enabled to view it.

* ATTENTION: Paypal votes may be counted duaring 12 hours after payment

Share with your friends and your favorite actor (actress) will be have more votes :
Results of voting:"Most Beautiful Moroccan Woman"
In 2006, Amelle Berrabah was already a full participant of the band and actively participated in the release of the following album, to be exact in the launch of the best singles collection called "Overloaded: The Singles Collection".
The Biography
Amelle Berrabah, the Moroccan by origin, was born on April 22, 1984. Her native place is Aldershot town, situated in the Hampshire County in England. She was born in a Muslim family. She was middle of three sisters. Since childhood, the girl showed an interest in the music and graduated from the Academy of Contemporary Music. Later on, she and her younger sister Samiya had created the Boo2 duet that became very popular after some time and even won the first award in the competition poll "Top of the Pops-Magazine's Star Search 2003".
Amelle Berrabah Singing Career
Despite the unexpected success, Amelee couldn't even think that once she would be invited in the famous band Sugababes as simply the talented singer and the third soloist. She received an invitation in 2005. The next album "Taller In More Ways" was released under the protection of Amelle Berrabah.
In 2007, the band "Sugababes" made a tour around the Europe, and later on, in September, she presented her first book "The Change". In 2008, the trio has written down their next book named "Catfights and Spotlights".
In 2009, the woman left the band and started her own singing career.
The Singer's Private Life
Despite the progress in creative activity, Amelee was quite unlucky in private life. First, in February of 2007 the singer's boyfriend, Fredi Fuller, has been arrested for malicious attack on Amelee's younger sister, Samiya. Though later on, he was proved in Samiya's beating, however, the singer has left him.
Some Interesting Facts about Amelle Berrabah
In 2008, Amelle Berrabah has got into a scrape by herself. She has fought with the girl in the bar and as a result appeared in a police station.
One more case has happened with the celebrity in her hometown in January 2008. She has been once again arrested, for an attack on the driver of the car, causing damage to property.