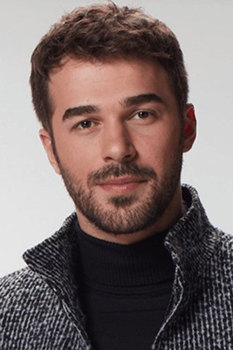 ** After payment please send screenshot of payment to email: This email address is being protected from spambots. You need JavaScript enabled to view it.

* ATTENTION: Paypal votes may be counted duaring 12 hours after payment

Share with your friends and your favorite actor (actress) will be have more votes :
Results of voting:"The best actor of Turkey"
Yusuf Çim is a young, but already a popular Turkish actor, model, and TV presenter.
The Biography
The future celebrity was born in Istanbul, on 26 September 1991. No one supposed that the newborn boy would become a popular actor. Even after school, Yusuf chose the profession far from theatrical art.
After graduating from high school, he entered the Anatolian Technical and Vocational School of Computer Technology. The young man successfully graduated it and was intended to continue technical education.
The next step, which was taken in the actor Yusuf Çim biography, was the admission to the State University of Radio and Television.
The young man has an attractive appearance and slim body, so the attention from the advertising and modeling agencies was quite expectable. Yusuf Çim studies and acts as a model at fashion shows simultaneously and even got the award of the Best Model Turkey 2011. Many well-known brands offered him job in the sphere advertising and invited him on Polo, Ralp, Mango shows.
You can see the attractive young man on the pages of many glamorous magazines that focuses on fashion trends, new collections of designers and interesting ads.
The Acting Career
Studying at the University and modeling career took the young man a lot of time. Nevertheless, he managed to find a spare time for his another hobby – music. In 2013, he began his musical career, which was marked by the release of his first debut album called "Olsun Bi Kere". The Yusuf's fans were able to see several of his clips.
Multi-talented young man tried himself in the role of TV presenter. In 2015, he shot his own TV show "Piramit".
His acting career started with the film "Ezra," in which he played the role of Mustafa. And in 2015, Yusuf Çim starred in the TV series "Çilek Kokusu".
The Private Life
The young and ambitious actor Yusuf Çim's personal life is also associated with the world of cinema. His latest love affair was the relationship with the actress Demet Özdemir. Young people starred together in the TV series "Çilek Kokusu", where they met and noticed each other.
The Interesting Facts
Turkish actor Yusuf Çim is deeply involved in charity work. Another his occupation touches the work in the supporting fund for children with down syndrome.