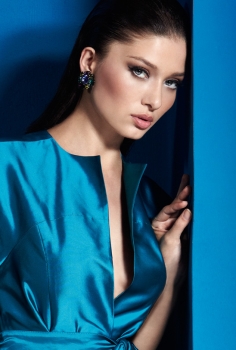 ** After payment please send screenshot of payment to email: This email address is being protected from spambots. You need JavaScript enabled to view it.

* ATTENTION: Paypal votes may be counted duaring 12 hours after payment

Share with your friends and your favorite actor (actress) will be have more votes :
Results of voting:"The best actress of Turkey"
Beautiful Nurgül Yeşilçay is famous in Turkey and far abroad. She is beloved by many viewers for her attractive roles, talent and ability to cause emotions.
Biography
Nurgül Yeşilçay was born on 26th of May, 1976, in splendid Turkish town Afyonkarahisar located in the West of the country. Though she spent her childhood in another town Izmir.
The nice name that was given to the girl is translated from Turkish as "green tea" – freshing and fragrant.
The future actress finished the school where she got initial, basic education. Then she entered one of the most popular institution of the country – Institute of Theatre Art.
Nurgül studied the acting profession with interest attending lectures and using each possibility to take part in theatre performance or small scenic plays. You must show the real talent and tenancy in country where so many talented and beautiful actors of movie and theater live if you want to became famous and get roles regularly.
The attractive girl's first shooting were on TV. Nurgül started her career being 23. The beginning was quite successful, because this young actress is very popular and in demand now.
The Career
Nurgül Yeşilçay's creative way goes well.
She started active actor's career at 23. These were vivid roles on TV for the first time, but soon she got the proposals from film distribution producers.
The girl started play in theatre after graduating from the institute. She gained many-sided experience by performing in front of theatre viewers and featuring in TV-series. She managed producers' tasks successfully in both places. This speaks for young actress' talent.
The viewers beloved Nurgül for her attractiveness, beauty and gentle smile. Her heroines are usually goodie and cause pleasant emotions.
The girl obtained such roles in theatre as Ophelia in "Hamlet" and Blanch in "A Streetcar Named Desire" being one of the first. These were theatre roles exactly that brought the beauty's talent to light and attract producers' attention. The last ones offered her interesting shooting proposals at ones.
The first Nurgül's film has symbolic name - "Everything's Gonna Be Great." It was shot in 1998.
The role in village story "Adam and the Devil", shot by famous Turkish film director Barış Pirhasan, was one of her works. The film was made in 2007 and was launched in International Istanbul Film Festival.
Nurgül's role that stack in viewers memory most of all was the role of Yasemin in graceful and dramatic film "Love and Punishment." The TV-series was translated far abroad Turkey. So, the girl has many real fans abroad who interested with her life and new roles.
Movie critics marked "Ezo Gelin", TV-series, where the attractive actress played Ezo, the main heroine, The girl had to make great efforts to play the hard destiny and character of her heroine.
The star played different roles. She cast comedies, dramas, melodramas during years of her actor's career.
Yeşilçay won award many times on different cinema festivals. Critics and viewers marked her as the best actress of the year.
Nurgül Yeşilçay's Private Life
The actress got married to Djem Ezer, a famous Turkish actor, who was older Nurgül at seventeen years. He is not featuring films now, but he had many fans in his best times. Earlier he was married to Celine Delmen. He divorced with her in sake of Yeşilçay. The marriage was over in 2010.
Nurgül has a son, Osman, who was born in 2005. The woman loves her baby very much and tries to spend with him so much time as she can.
Nurgül Yeşilçay's Filmography
1998 – "Everything's Gonna Be Great"
2001 – "Second spring", "The waterfall", "90-60-90"
2002-2003 – "The Mansion with Wines"
2004 – "Island of Angels"
2005 – "Borrowed Bride", "Istanbul Tales"
2007 – "Ezo Gelin", "Adem'in Trenleri,", "On The Other Hand/Side"
2009 – "Vicdan", "7 Husbands for Hurmuz"
2010 – "Love and Punishment"
2011 – "Çinar agaci"
2012 – "Sultan"
2013 – "Red Love"
2014 – "Cinayet", "Broken Pieces", "The Night"
Awards
Best Actress Award won at Golden Orange famous film festival was the main award in the actress' creation life.
She has also Golden Boll Award for Best Actress that was won in 2005.
Interesting Facts from Interviews
The charming actress is 38 now, but she seems to be very young and attractive still. Nurgül is going for sport and keeps diets to remain the beauty of face and figure.
One more interesting fact from actress' life is that she is a good artist who gained popularity in the art world. The woman is going to develop her talent further.
Nurgül says that she would never have love affair with married man for it causes suffers only.
The actress would never track her man, check his chats and social accounts, even if she suspects him in adultery. That what she said to a journalist in the interview. To love is enough for her, even if the love is not mutual.