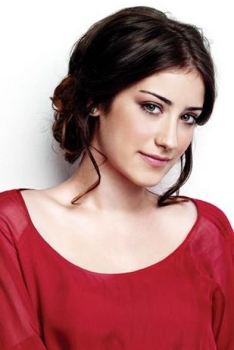 ** After payment please send screenshot of payment to email: This email address is being protected from spambots. You need JavaScript enabled to view it.

* ATTENTION: Paypal votes may be counted duaring 12 hours after payment

Share with your friends and your favorite actor (actress) will be have more votes :
Results of voting:"The best actress of Turkey"
The role of romantic and temper Feriha became starring for a young Turkish actress Hazal Kaya.
The Biography
Hazal Kaya was born in Turkish town Gaziantep, located in the South of the country, on 1st October, 1990.
Unfortunately, the girl's parents divorces as soon as the girl was seven-years-old. Though it was not an obstacle for a future actress to get parent's love and attention.
Being a child, the girl displayed talent to music and dances. That is why mother brought her to a dancing group. At the same age Hazal began learning to play the violin. This hobbies turned to be very important for the girl's life in future. She was fond of music and dances and attended lessons with pleasure. She succeeded in argentine tango best of all.
Being a teenager Hazal turned more and more attractive. Soon she was invited to cast commercialsThe girl became the face of world-wide famous companies as Nescafe, Ritmix. She featured expressively the commercials of popular Turkish brands too.
Later on, the girl's thoughts became centered on cinema and theatre. She decided to enter the Algan Theatre School in order to make her dream come true. The school was situated in Istanbul. The learning at this school brought the girl the notable result for the beauty was invited to play a secondary role in a series some time later.
This was the beginning of Hazal Kaya's acting career, which developed very fast. Soon the secondary roles were replaced by leading ones. The viewers remembered the new actress and loved her. Now the girl has many fans in Turkey and far abroad.
The actress entered the Istanbul Bilgi University targeted on stage direction in order to became the real professional and to study the process of film creation beyond the camera. The girl chose an interesting faculty called Television Reporting and Programming. Hazal learned languages together with studying. So now she speaks English, German and romantic Italian.
In 2013 the young celebrity leave her native country for USA for a year. She intended to rise up her professional level there. The acting skills lessons brought her a new result in face of the next leading role in the series «A.S.K.».
The Acting Career
Hazal Kaya is one of the youngest Turkish actresses who has vivid, recognizable works.
Hazal's first roles were secondary ones and the actress hesitated if she would be offered to play something interesting and worthy.
Though, she hesitated in vein for the girl was offered to play the role in new series "Aşk-ı Memnu." The shootings were long lasting and difficult, but it was taken warmly by viewers. The picture brought popularity to Hazal.
The role in the film "Adını Feriha Koydum" is Hazal's brightest work. The young beginning actor Ulusoy Çağatay became her partner in TV-novel. Hazal and Çağatay create a beautiful screen couple. This is one of the reasons why TV-series head up the list of top popular series. The viewers watched carefully and were anxious about the sweethearts' screen way.
Hazel started getting many interesting proposals after featuring "Adını Feriha Koydum." She cast the different genres series and films.
The cinema critics highly appreciated the actress' work. She won many awards and prizes in different prestigious nominations.
Hazal Kaya's Private Life
Beautiful and elegant Hazal is surrounded by a lot of fans. They say she had a love affair with Mehmet Aslan, with Baha Pars, a famous photographer who is elder the actress.
At this time, the girl is not married and spent the biggest part of her time at shooting stage.
Hazal Kaya's Filmography
2006 – "Sıla Berrin"
2006 – "Taşların Sırrı," series
2008-2010 – "Aşk-ı Memnu"
2010-2012 – "Behzat Ç. Bir Ankara Polisiyesi"
2011-2012 – "Adını Feriha Koydum"
2011 – "Behzat Ç. Seni Kalbime Gömdüm"
2012 – "Bu Son Olsun"
2012 – "Son Yaz-Balkanlar 1912"
2013 – "Mavi Dalga"
2013 – "A.S.K."
2014 – "İtirazım Var"
The Awards
Hazal Kaya is proud for her awards, which he gained for her vivid and talented performance in different genres films. She won the prestigious prize of Ayakl Gazete, a popular Turkish mass media, for the best female role. She was also awarded by website Oskarlar Sosyalmedya.cc prize at the same nomination. The girl takes each role with high responsibility. Meanwhile the success didn't lead her to a star fever, as it did with other actors.
Some Interesting Facts from Actress' Life
Unfortunately, diabetes got in her way of happy things. The girl should always control her meal and fight with disease. For the first time the girl knew about her diagnosis it lead her into a state of depression. But some time later she could snap out of it. She defined right meal menu for herself and went in for sport.
Hazal Kaya surprises fans with beautiful, elegant dresses on pint teas. Casually she prefers to wear buggy trousers, simple gumshoes for she feels comfortable and cozy in it.
Her short height (5.2 ft) made problems for actress during shootings. A small bench is used in some scenes, it is put under her feet.