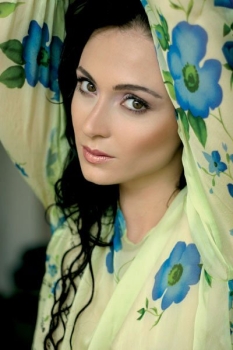 ** After payment please send screenshot of payment to email: This email address is being protected from spambots. You need JavaScript enabled to view it.

* ATTENTION: Paypal votes may be counted duaring 12 hours after payment

Share with your friends and your favorite actor (actress) will be have more votes :
Results of voting:"The best actress of Turkey"
Vivid, expressive and attractive Ceyda Düvenci is famous either in Turkey, her birthplace, or far abroad.
Biography
Future movie star Ceyda Düvenci was born in a small Turkish town called Bursa on 16th April, 1977.
Ceyda was the only and very favourite child in her family. Future actress' parents had no other children. So it was quite logical that they put their hearts in their only heiress.
Unfortunately, the family had gone through very dark time. The father was an actor, but he became a bankrupt and he took it a worst. After a while the mother got in the car accident, got blind and had gone later.

Ceyda learned in a college and was going to become an economist for she was fond of exact sciences. The girl entered the Marmara University in order to get a diploma of economist.
But the diploma was not enough for the beauty and soon she entered Belgium University too. But this time the girl chose film making qualification. Ceyda didn't tried herself in this profession yet her life was closely related to cinema and acting.
Taking part in a beauty contest that was shown on Turkish channel was the first step towards actor's career. The debut was quite successful for the Turk became the number one. This opened the cinema doors to Ceyda. She played her first role in 1995. It is interesting that the girl's favourite father was featuring film too.
The Career
The actor's way of Ceyda was very successful. She always gets interesting roles in melodramas, dramas and comedies.
One of her first roles in the film "Everything's Gonna Be Great" brought a success to the young start-up actress, which she tried to repeat in the other works.
The actress features both in TV-series and full-length motion pictures. The viewers took her well in "Gece yarisi hikayeleri: Geceden gelen yabanci", in series "Attention Baby's", "Sick Doctor".
The actress stack in memory for her role in famous series "Thousand and one nights", which was well taken far abroad the Turkey.
The popular actress was invited to play a role in the famous series "Desperate Housewives". There was needed to show the ability to play character roles.
The series "Maral" is one of the last works of 2015.
Ceyda Düvenci takes part in different TV-shows and popular shows besides cinema. She was invited on "Beyaz Show" talk show in 1996. It is seen by large auditory of viewers. Since 2000 to 2007 she features in "Baska yerde yok" show, which is successful too.
The roles in mini-series, which are often shot by Turkish TV-companies, include the great part of the actress' work. In 2004 the young woman got the role in "Delete the start", TV-novel. The vivid girl Kiraz was her heroine.
Düvenci is still in demand. She is invited in film of different genres. This says for her acting mastership.
Ceyda Düvenci's Private Life
The actress got married quickly. Kaan Girgin, a famous actor, became her first husband. Ceyda, being a married woman, decided to devote her life to family and stop featuring in films. But all this didn't worth a candle. Her marriage was not long and the actors' couple broke in 2002.
The young woman started self-perfecting in order to overcome the happened things. She decided to develop her acting skills. At that time she got interesting proposals, which were perspective and bright enough. The actress used the opportunity and soon demonstrated herself as a popular and recognizable girl.

The young woman wasn't single for a long time. She got married at second time in 2008. For now she chose quite a successful businessman. Two years later Ceyda and Engin Akgün gave birth to a girl who gifted a very nice name – Melissa.
Ceyda feels herself happily for she has a nice family and many successful roles in films. Besides, she features the main roles in general. Ceyda has a lot of friends thanks for her cheerful, communicable character. She can be a good friend.
Ceyda Düvenci Filmography
1997-2003 – "Boyle mi olacakti", series
1998 – "Everything's Gonna Be Great»
2000 – "Attention Baby's"
2002 – "Sick Doctor"
2004 – mini-series "Delete the start"
2006 – "Thousand and one nights"
2006 – mini-series "Yearning"
2010 – "Dragon Trap"
2011 – "Desperate Housewives"
2015 – the last work in the series "Maral"
Some Interesting Facts from Interview and TV-Shows
Ceyda showed journalists her cozy house in one of the TV-show. Though she warned that she didn't like to display her private life. So, this invitation was rare for Mass-media employees.
The actress narrated to the same TV-show that she liked to grow trees and flowers in the garden.
There are cats and dogs in Düvenci's house. This says for woman's love to animals.
The favourite actress' leisure is to spend time with her family. She and her husband organize family dinners often or invite the closest friends at their place.
Antiques is another popular actress' hobby. She collects interesting antiques from far-away trips or finds them in local antique shops.