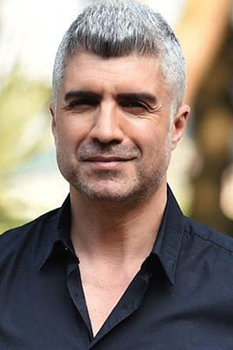 ** After payment please send screenshot of payment to email: This email address is being protected from spambots. You need JavaScript enabled to view it.

* ATTENTION: Paypal votes may be counted duaring 12 hours after payment

Share with your friends and your favorite actor (actress) will be have more votes :
Results of voting:"The best actor of Turkey"
Özcan Deniz became one of the most popular and demanded actors of Turkey due to his acting ability and vivid appearance.
The Biography
Özcan was born on May, 1972 in Ankara. His nationality is Kurd. The future star's childhood was spent in Ankara too.
The boy went to a good school, but he gave it up early, at the age of 13. Deniz was fond of music and he gave up school in sake of music.
The teenager's first musical performance took part in Izmir. Later he prepared the real concert, which he offered to viewers at the age of 16. Özcan could even earn his family's living thanks for his successful concerts. He was very proud of this fact.
The handsome young man's musical career took further development in Munich. Germany gave shelter to Turkish musician for three years. Than he had to go back to his motherland.
As soon as the young man returned to Turkey, he went into the army. So, his musical activity stopped for a while.
After Özcan left the army, he got to shooting stage instead of concert scene. The handsome young man was offered to play the role in "The Mansion with Vines" series. This was a very successful premiere. After the picture launched, Deniz became famous and popular. The viewers watched carefully and with great interest the Özcan's hero story development. They gathered around the screen to watch the next series.
Musician didn't stop his concert performances in spite of successful development of is acting career. Deniz didn't sing solo on many concerts, he sang with many famous singers.
Later on, the Turkish celebrity's first album debuted. It was called "Hadi Hadi Melegim." The album was mass-produced. The singer's fans bought all of them very quickly.
Özcan gave concerts on both Turkish and French, German scenes. The audience took him well.
Soon the other albums were launched, "Çoban Yıldızı" for example. What differs this singer and make him popular? It is a beautiful voice, attractive appearance and splendid acting abilities. The singer had no possibility to have fewer male fans having such looks.
Özcan Deniz's Acting Career
Deniz began featuring films in the end of 1990-s. His first role put the successful beginning to his star career. Nowadays the actor is most demanded Turkish cinema celebrity. Özcan's filmography includes many wonderful, vivid pictures as "O simdi asker," "Haziran gecesi," "Where's Firuze?"
The shootings in TV-novel "Samanyolu" was the bright episode of the actor's life. Özcan Deniz played romantic and passionate young man Nejat in this picture. The actor had to show the strong feelings of his hero, who managed to secure beautiful and everliving love through different obstacles.
Soon Özcan decided to try himself as a producer. His first film "And Then What?" was launched in 2011. The famous actor executed the work both of producer and scenarist. The picture was beloved by viewers and was positively taken by cinema critics.
The next Özcan' producer work was film "Evim Sensin". The picture was also successful and inspired Deniz to create new pictures, where he would be able to present different talents.
Özcan Deniz's Private Life
The attractive man with singer and actor's talent became a dream for many women far abroad Turkey. Nevertheless, journalists know little about his private life. The actor secures carefully his private things and prefers to keep his love affairs in dark.
Though the viewers got known with the help of mass-media about his love affair with charming Fahriye Evcen, who played the role of beloved Carol. In 2013 the love affair was over. As people say, it was due to the actor's betrayal.
The handsome Özcan seemed not to be alone all this time, but journalist know nothing about his romantic relationships.
The Filmography
2008 год – "Mevlana Celaleddin-i Rumi - Aşkın Dansı"
2009 год – "Ask Yakar," "Samanyolu"
2011 год – "And Then What?"
2012 год – " Bir Zamanlar Osmanlı," "Araf," "Evim Sensin"
2013 год – "Water and Fire», "Karagül"
2014 год – "Kaderimin Yazildigi Gün"
Some Interesting Facts about the Actor's Life
Özcan Deniz's destiny is a bright example of how people can reach many things in life due to vivid talent, ambitiousness and great belief in yourself. The Turkish celebrity was not rich at the beginning of his career, and Özcan's family had no possibility to give him money for start-up. The young man battle to survive all alone and succeed both in Turkey and many European countries. At the career beginning he was glad to every proposal from musical and cinema producers. Now the star produces the films by himself and makes castings for his works. He can plan concert scheduler on his liking and do his favourite things only.