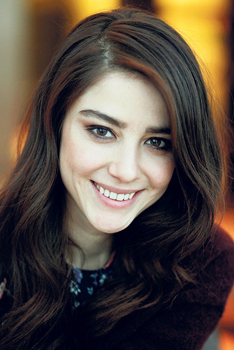 ** After payment please send screenshot of payment to email: This email address is being protected from spambots. You need JavaScript enabled to view it.

* ATTENTION: Paypal votes may be counted duaring 12 hours after payment

Share with your friends and your favorite actor (actress) will be have more votes :
Results of voting:"The best actress of Turkey"
Özge Gürel belongs to most popular Turkish actresses, although her mother comes originally from Greece, and her dad is Circassian. This charming woman, whose height is 5'7'' is only 30 (Özge was born in 1987, on February, 5) has won the hearts of millions; her charity activity is known overseas, and the serials and movies she is started in have been watched in Europe, Asia, both Americas and even Australia. Her most popular works are TV films "Where is my daughter?", "Cherry season", "Full Moon". Özge Gürel is advertising Vodafone, Doritos, Pepsi and Milka as well.
Staring her career
The future star graduated from high school and university, so she has got brilliant education. However, the girl decided to try herself in acting, the profession, which attracted her for so long!
Özge Gürel went to the casting of a new project (she learned about it from friends). Suddenly, the beginning actress with the model appearance (her height is 170 cm and weight is 53 kg) got the first role in "Where is my daughter?"melodrama. Later, Özge Gürel confessed that it was a great surprise for her — she did not expect to be chosen from hundreds of applicants. That time charming young girls did not have any experience of acting. The debut in the series was successful. Everybody started to speak about a new rising star of Turkish cinema.
Özge Gürel filmography
Özge Gürel loved the atmosphere of the stage and she started attending various courses of acting art; she was constantly talking and mixing with more experienced actors. Soon several film directors proposed the young woman roles in their TV series. In 2012 Özge got her role in "Huzur Sokagi" (it can be translated as "The Street of Peace") — young actress played Melissa there. The film was about neighbors who had different characters and worldviews, but nevertheless they all had friendly relations.
From 2013 to 2015, young but popular already actress starred in Turkish drama "The Tide" ("Med Cezir"). That film was about relationships of young generation representatives — love, friendship, betrayal.
In 2014, the actress starred in historical drama "The Magnificent Age" ("Muhteşem Yüzyıl"), playing a favorite woman of a man in power. The actress appeared only in the last season of the drama. By that time the series had already been broadcast in 50 countries, so they the actress became famous overseas.
In 2014 she took part in two projects — the series "Afra" and "Our Honor". However, there she did not play leading roles.
In 2015 the lady got the main role in youth series "The Cherry Season" ("Kiraz Mevsim"). The actress played there the cheerful girl Oykyu, who was in love with two guys (a model and a popular actor Serkan Çayoğlu played one of these guys). The film was called the best series of the year, and the actors became the stars of the FOX channel.
Personal life
Özge Gürel shares the plans concerning her future work with public with pleasure, but she never unveils the secrets of her personal life. When curious journalists and paparazzi ask her questions about her love and romance, about the inmost, the young woman always answers that she is involved into her rapidly developing career. However, the Turkish media found out that before the actress started her career, she was in love with a guy, whose name was Özgür Orun.
When starring in "The Cherry season", the actress started meeting with Serkan Çayoğlu. For two years, the couple met secretly, but in 2016 young people parted through their quarrels. Later, both understood that they cannot live without their love. Serkan was the first one to offer Özge Gürel to try starting their relationships again. In spring of 2017, the world journalists have got an official confirmation: the pair is happy together and they live as husband and wife. Meanwhile, they did not tell anybody anything about their wedding plans.
Özge Gürel — the everyday life
Özge Gürel reads a lot and she is engaged in choreography. In dreams, the actress travels to distant countries, but the woman cannot afford it because of her hard work in TV series and cinema.
After the tragic death of her sister, who died of cancer, the actress started her charity activities.
After a two-year break in film career, she starred in a number of TV series, where she performed the main roles. In 2017, the melodrama "Stars are my witnesses" was released. There she played the role of a girl from a very poor family, who was dreaming about singing and who was cherishing the idea of meeting with a popular Turkish singer. As it usually happens in series, finally she meets the singer and even sings a song together with him.
In 2017 the actress got the main female role in "Organik Ask Hikayeleri" movie (translated from Turkish as "Stories of Organic Love"). This lyrical melodrama and comedy tells about relationships of eight pairs and 16 men and women! Another work of the year was the role in the film "The First Kiss", where Özge Gürel played with Murat Yıldırım, popular Turkish model and actor. This is a sad story about a fantastically attractive girl who lost her memory. Murat Yıldırım played there a doctor, who helped this girl to recover as he loved her and showed to her all his attraction and devotion.
Each series, film or a movie, where Özge Gürel appears tells about romance, deep feelings, true emotions and love.