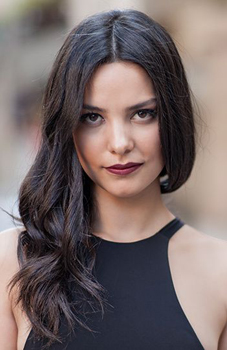 ** After payment please send screenshot of payment to email: This email address is being protected from spambots. You need JavaScript enabled to view it.

* ATTENTION: Paypal votes may be counted duaring 12 hours after payment

Share with your friends and your favorite actor (actress) will be have more votes :
Results of voting:"The best actress of Turkey"
Hazal Filiz Kucukkose is a young, provocative, surprisingly attractive Turkish actress and model. This young and extremely talented woman is known for her roles in series and movies. Her private life is actively discussed not only in her country, but overseas. The films she starred in were shown in Asia and in Europe, and the celebrity has hundreds of thousands of true admirers.
Biography
According to truthful sources, the young talent was born on February 9, 1988 in the beautiful tourist and commercial city of Mersin on the south-eastern coast of Turkey. The other information says that her native city is Ankara, the place, the centre of Turkish art and culture.
Her astrological sign is Aquarius, thus, Hazal is a very charismatic, friendly, sincere and honest person. It is rumored that she has two brothers and a twin sister, Denise. Some sources claim that her family lives a simple life: her mother was a housewife, and her father worked at the railway station.
Since childhood the future star of television series was dreaming about a career of an actress. Together with her sister she visited all theatres, taking her inspiration from the play of the actors, who performed on stage.
Starting her career in theatre, later Hazal Filiz Küçükköse was invited to play her roles in TV series, where she succeeded and became famous.
The actress was happily married, but in autumn of 2017 mass media informed her fans that she got a divorce. It did not affect her work, and Hazal will be seen soon in new films.
Young years
According to the media, the girl finished school in Ankara. Then she entered the University in Kırıkkale, where she chose the Faculty of Arts. Here she studied until the third year, and then she decided to quit it and submitted documents to the University of Ankara, having chosen the faculty of chemistry. The decision was strange, and later, being famous already, young woman could not explain this decision even to herself.
Career
This pretty woman started her career, like most attractive Turkish girls, in the modeling business – her images appeared in famous fashion magazines. Then she decided to change her career and associate life with the world of cinema. For this, Hazal started attending acting courses (school of acting art).
Filmography
The talented girl got her first role in the television series "Deniz Yıldızı" (It can be translated as "The Sea Star"). It happened in 2009. Working at her role, she met her future spouse, Tuan Tunali. Then she played in several other films ("Ustura Kemal", "Beni Affet",etc), but the real recognition, fame and love of TV viewers was received only after the role of Zeynep Soydere in the television series "Kara Sevda" (the translation from Turkish sounds like "Black Love"). It happened in 2015-2016.
 Interesting Facts
The height of Hazal Filiz Küçükköse is 172 am, and the girl's weight is only 55 kg. The actress is extremely active and athletic. She adores to be engaged in fitness, pilates and aerobics, and also takes a great interest in basketball and table tennis.
The young celebrity has his own page in Instagram and constantly uploads new photos for her fans. Also the actress adores books and reads a lot.
Her favorite movie is Sherlock Holmes;
Hazal gained her extreme popularity thanks to social networks. When she posted her photos in Facebook, a famous producer accidentally met them and immediately contacted the girl to offer her a role in series;
Turkish celebrity has 2 siblings and a twin sister called Deniz;
To begin her acting career, Hazal started attending acting courses, although before that she and her sister arranged their own theatrical performances;
In 2014, Hazal married Tuan Tunala, her partner in the series "Deniz Yıldızı" and her first love. In the fall of 2017, the couple's relationship began to deteriorate, and the pair decided to divorce;
In 2016 she was the only one from the entire cast of the popular TV series "Black Love", who received the award in the "Best Supporting Actress" nomination;
On December 10, 2017 the actress got a very prestigious award "Pantene Altın Kelebek Ödülleri" (can be translated from Turkish as "Golden Butterfly") for her acting;
In 2017 according to the version of TC Candler, Hazal's name appeared in the list of "100 most beautiful people in the world";
Young charming woman supports healthy life style and even advertises it;
Her favorite color is white, because it reflects all other colors;
Hazal loves animals very much — she has a dog Mia and a cat called Lilly;
The actress is a real fan of Turkish football club "Beşiktaş";
The woman is ready to watch "We Need to Talk About Kevin" movie again and again;
Natali Portman is the actress she adores. Moreover, Hazal is dreaming to play Natali if she is offered this role.
About her husband:
Tuan Tunali, who was born on December 2, 1983, at the time lived in Belgium and Paris, but then fate brought him to Istanbul, where he graduated the "Cinema and Television" University faculty. Later he decided to work the modeling industry, and even got several awards. In 2009, he tried himself as an actor, starring in a series called "Deniz Yıldızı"("The Sea Star").
Tuan speaks three languages — Turkish, French and English. He is fond of basketball, playing billiards and badminton. As an actor, Tuan showed himself only in two projects, and then he became the right hand of the film director and his assistant. He married Hazal in 2014, but 3 years later they parted.