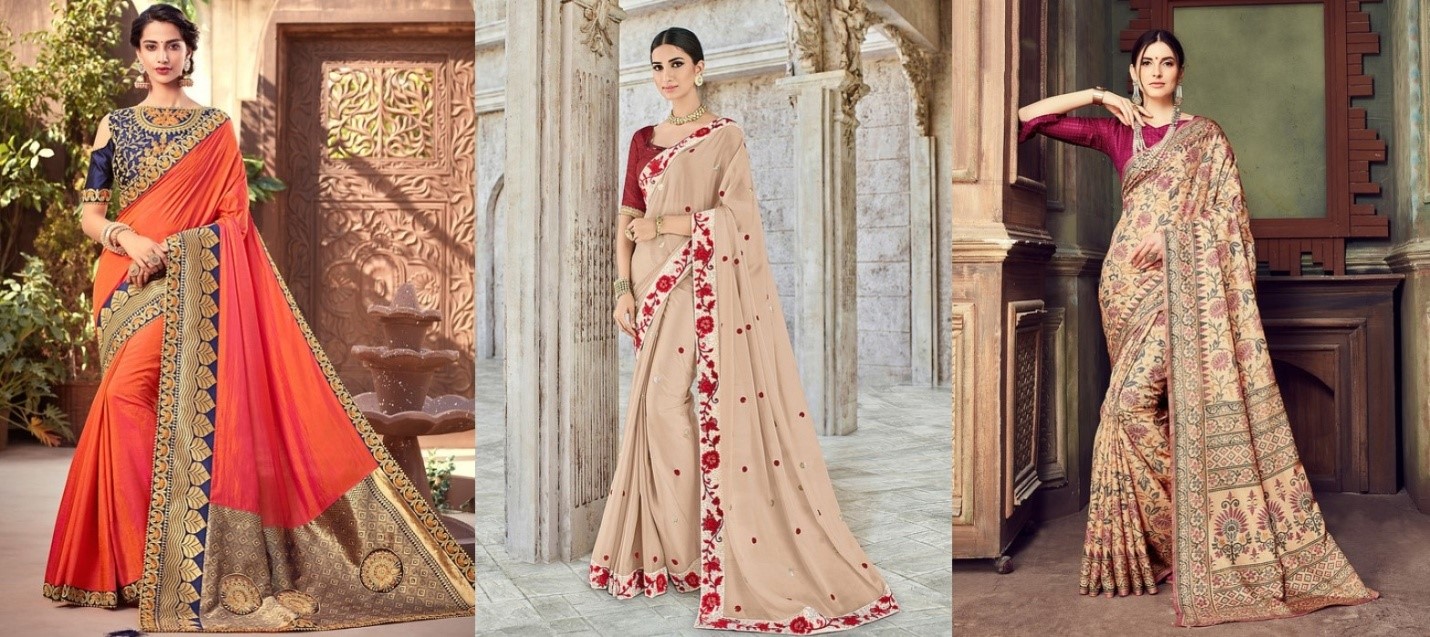 The demand for designer sarees increases during the festive season. Most ladies wait for this opportunity to wear those gorgeous pieces that they cannot wear to work. Trendy Designer sarees are suitable for special occasions since they come with unique features.
Shopping for a designer saree does not have to be difficult if you know what you are looking for. It requires some proper planning for you to get an ideal designer saree for a special occasion. For you to attend festivals such as Dussehra and Diwali, you should look for exclusive designer sarees that help you accentuate your gorgeous curves.
We will help you with your selection by sharing some designer saree ideas that trend during the festive season. Before we dive into that, we will help you understand the difference between a designer saree and a normal saree. Enjoy!
What differentiates designer sarees from normal sarees?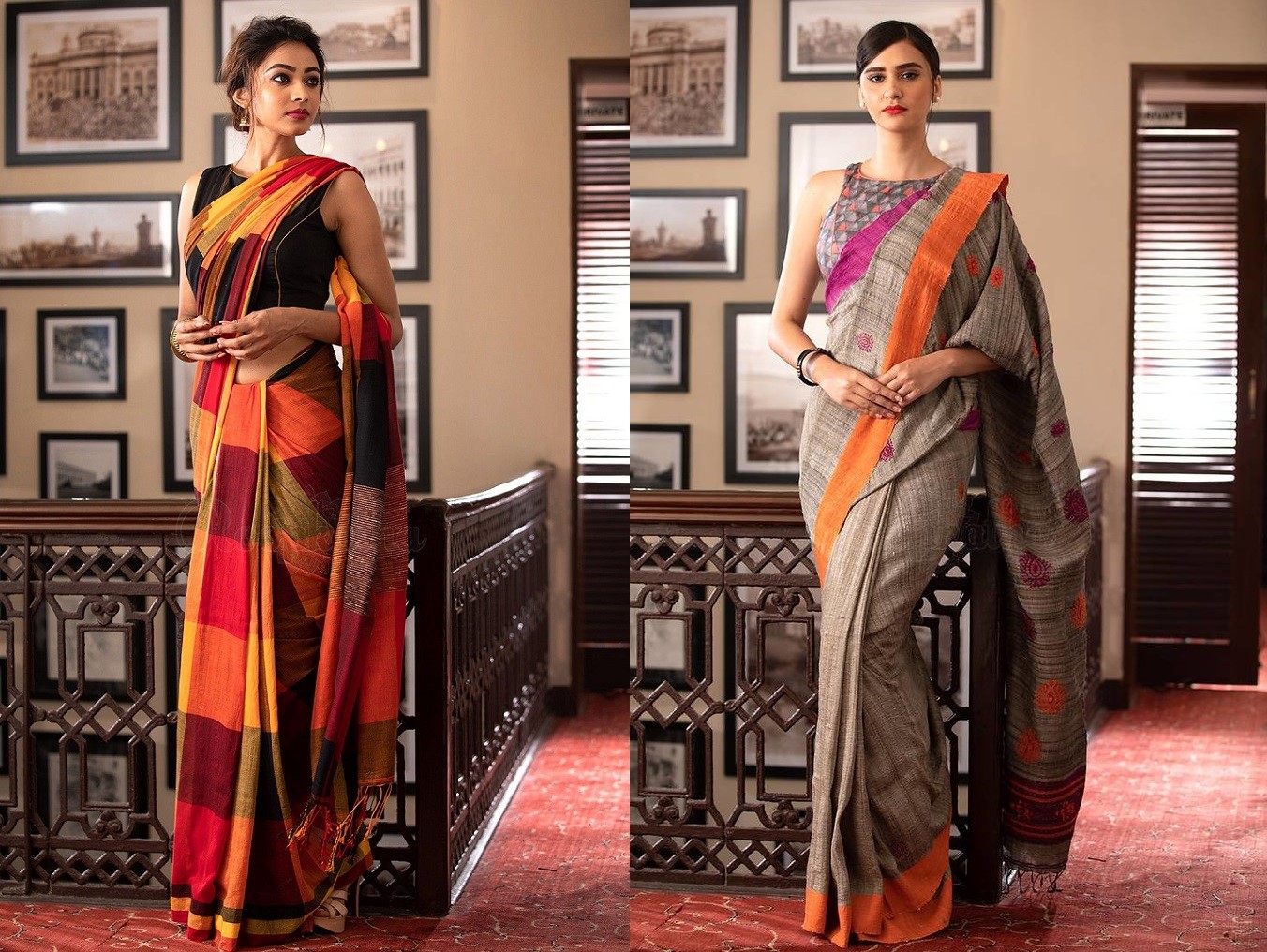 The fabric is the first distinguishing feature between the two categories. A luxurious fabric falls under the designer category while a simple plain one is used to make a regular saree. Fabrics such as Chanderi silk and Banarasi silk form designer sarees and they are more expensive than light-weight saree fabrics.
Designer sarees also come with some heavy embroidery such as zari work and special gems. Most people wear designer sarees to attend special occasions such as weddings, traditional festivals and anniversary. Normal sarees on the other hand come plain with minimal embroidery. A regular saree may only have some light border works and solid patterns.
Tailors spend a lot of time to make designer sarees. One designer saree can take between two weeks and six months to complete due to the addition of delicate pieces. A normal saree is easy to make and only takes a few days to finish.
Hot designer sarees perfect for the festive season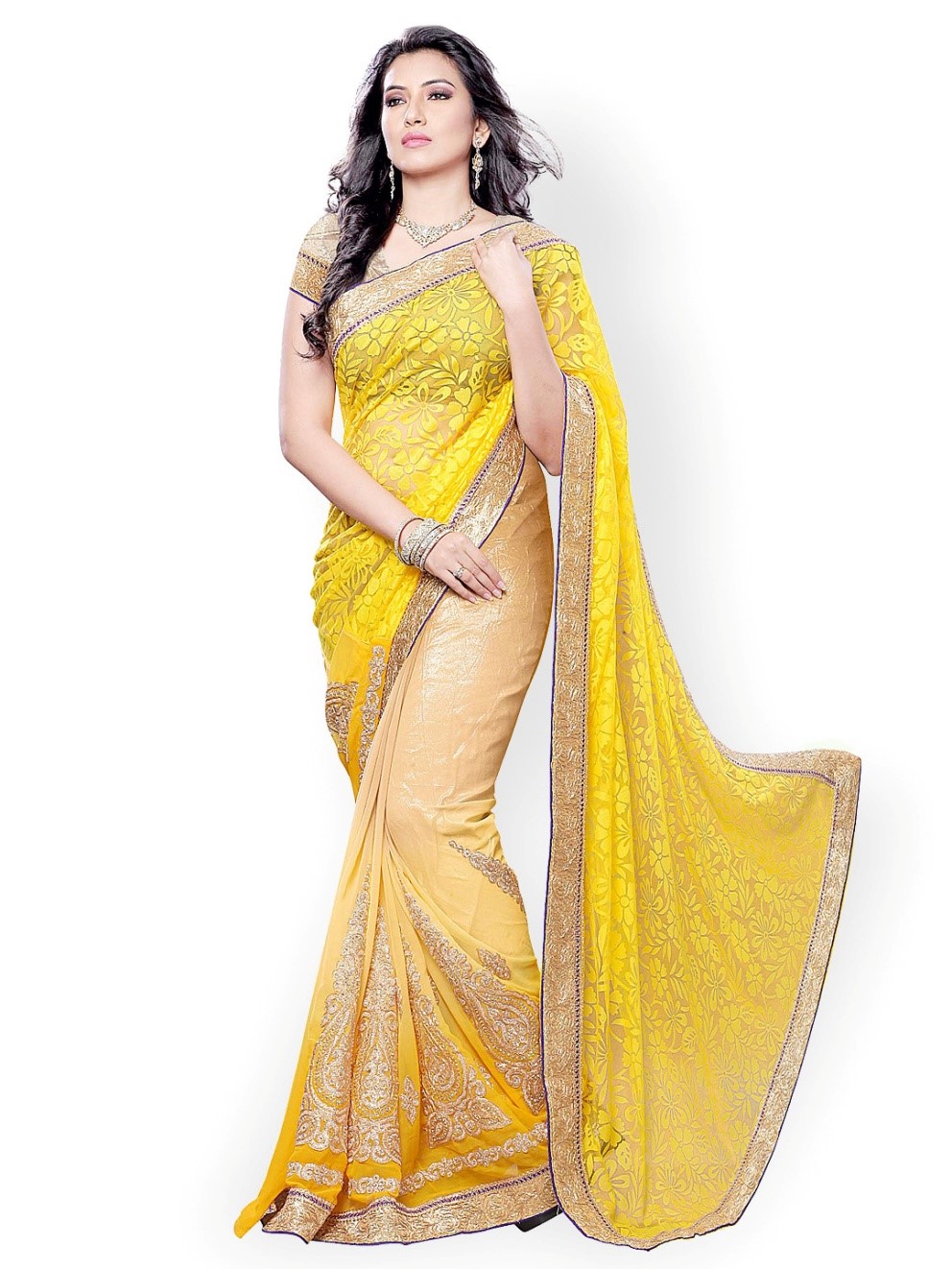 Lace sarees
Online stores such as Stylecaret provide high-quality lace sarees that feature exotic details for you to wear them on special occasions. You may not need to wear a lace saree with a lot of adornments for you to make a style statement.
Designer lace sarees do not need a lot of heavy work for them to look unique in a crowd. You can choose a simple lace saree and wear it with a black silk blouse to leave a lasting impression. If you want one with details, you can get a lace saree that has a silver thread on the borders.
Net sarees
A designer net saree can make you appear slimmer than your actual frame. You need to match it with a fancy blouse for it to look executive. The sheer net of this saree is not heavy, and it sits on your skin without adding extra weight. If you are attending a celebration that requires a lot of participation, the designer saree provides both comfort and elegance.
Mirror work sarees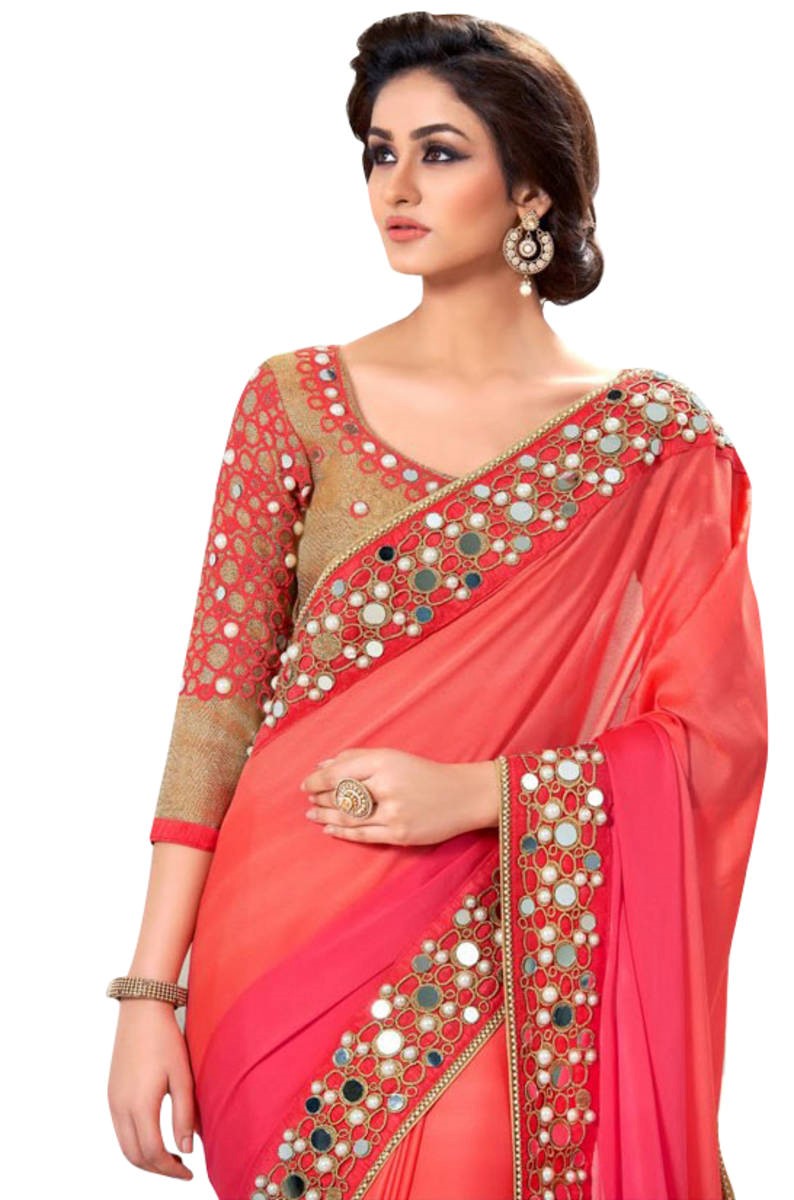 Do you love glittery outfits? The mirror work saree will blow your mind. It is a plain saree that features a mirror border. You can match this designer saree with a heavy mirror blouse to bring out a youthful look in you.
It is an ideal designer saree for ladies who love vibrant colors such as yellow, orange or bright red. You can match a pink mirror blouse with a blue mirror work saree which contains a pink border. Complete the look with simple accessories and hairstyle.
Satin designer saree
Satin is also an ideal fabric to wear at a party. You can choose a simple satin saree that contains embellished border. Some satin designer sarees also come with heavy details that make them more interesting.
Some of the majestic colors in this category include deep emerald green, berry pink, and burgundy. Try to pair a simple satin saree with an embroidered blouse. You can also get a plain look blouse from another fabric. Let the borders of your saree guide on the color of your blouse.
Floral designer saree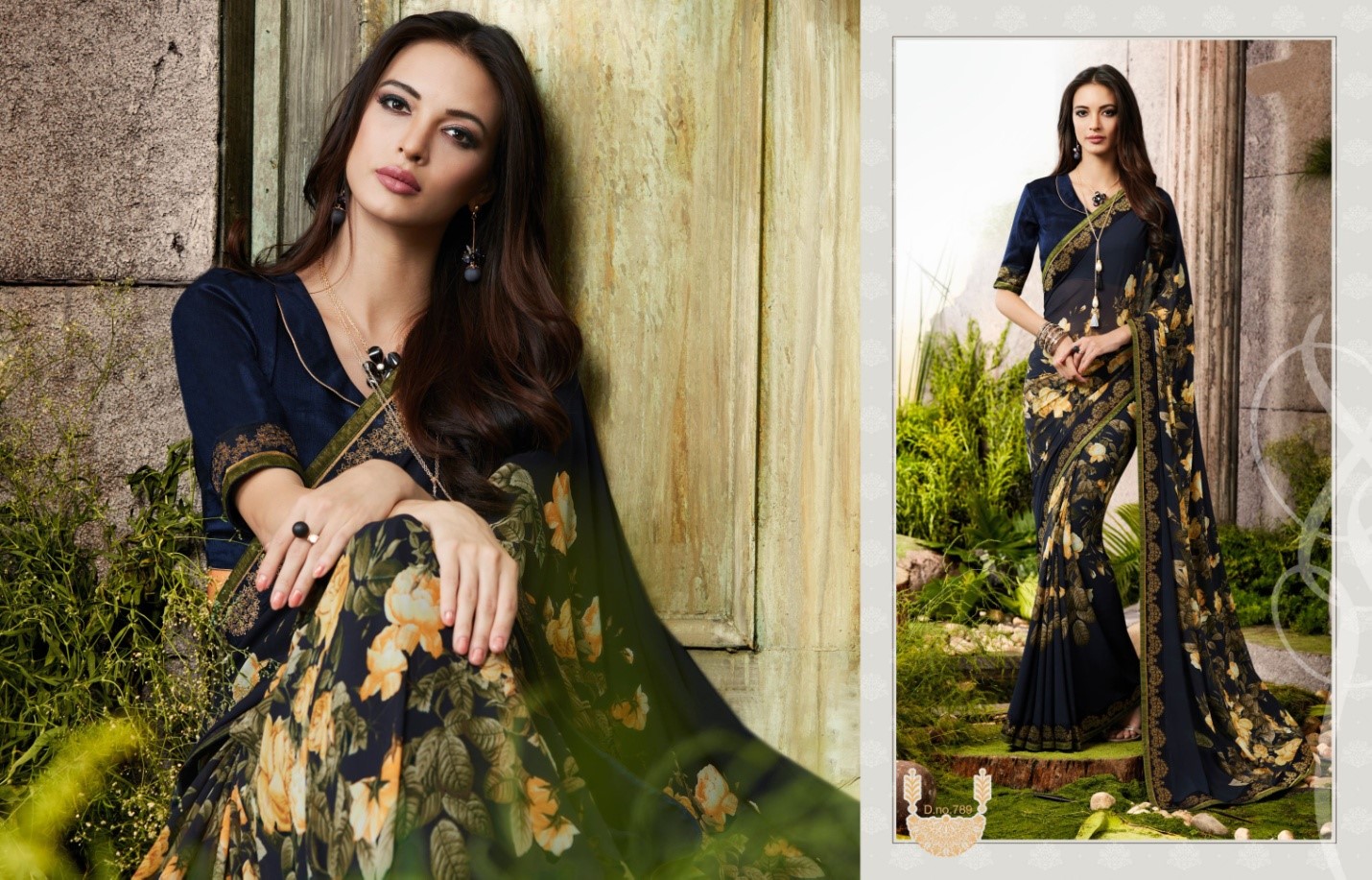 If you love flowers, check out designer sarees that come with stunning floral prints. Tailors add different floral prints on sarees to make them look distinct. Fine floral prints leave a feminine impression over your style.
Feel free to go through different floral prints and choose them according to your taste and body shape. Since your designer saree has a lot of details, you should keep it simple when it comes to selecting the blouse. An embellished blouse can make your outfit stand out in a ceremony.
Animal print sarees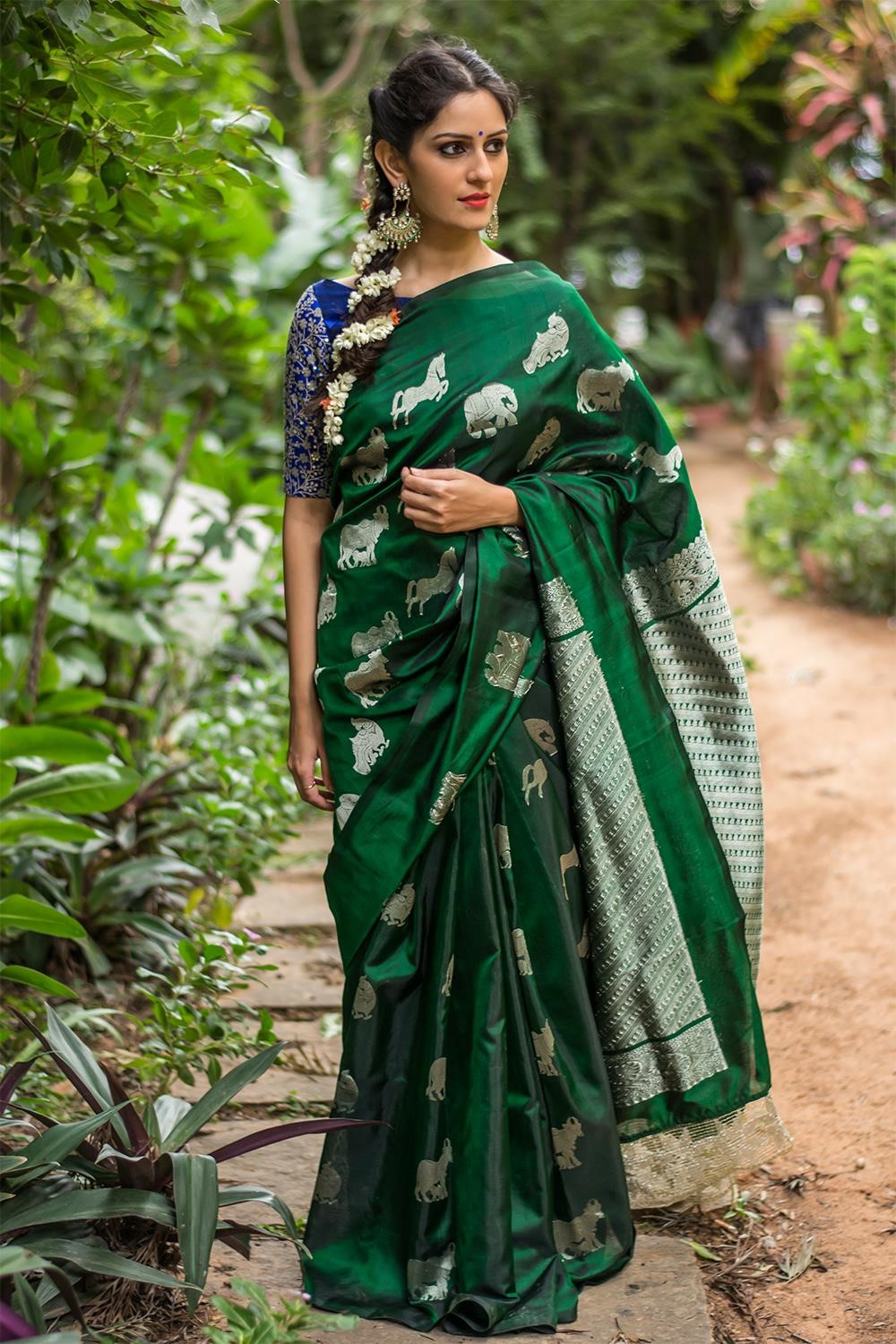 Apart from flowers, designers also add animal prints on designer sarees. Bold animal prints make you look trendy at a special occasion. Most designers add these prints on classy silk sarees. You can choose animal prints such as horse or elephant designs. Match such a designer saree with silk or net blouse and avoid adding a lot of details on your outfit.
Half and half sarees
The half and half sarees still have their charm in the fashion world. They are color block sarees from two different fabrics and prints. The two fabrics in this designer saree should complement each other, and the prints from one fabric should be of a similar color as the dominating color on the other fabric.
An example of a half and half saree is a net fabric combined with other fabric that features some deep floral work. They bring out a refreshing look when you wear them during an outing and break the monotony of sticking to a single fabric.
Dual tone saree
Most designer sarees come at a higher cost than other types due to intricate details on them. If you need a designer saree that is a bit cheap, check out the dual tone saree. This type features two shades of contrasting colors.
You may also get one that has an embellished border to complement your blouse. Since they don't contain a lot of details, you can add some accessories to make them classy. For instance, choose bracelets and earrings that match the color of the border and get a good hairstyle to complete the look.