Can Yaman was born on November 8, 1989, in Istanbul.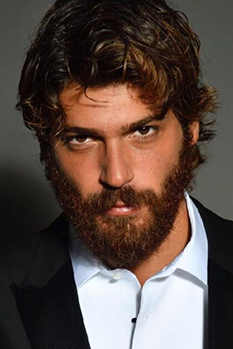 ** After payment please send screenshot of payment to email: This email address is being protected from spambots. You need JavaScript enabled to view it.

* ATTENTION: Paypal votes may be counted duaring 12 hours after payment

Share with your friends and your favorite actor (actress) will be have more votes :
Results of voting:"The best actor of Turkey"
Childhood and adolescence
He was the only child in his family. But when the boy was only five years old, his parents divorced. He graduated the Bilfen elementary school and the middle İtalyan Lisesi. His grandmother comes from Macedonia, and his grandfather is Yugoslavian. As an exchange student, Can left and moved to USA for a while, but then returned to his native Turkey and entered the University of Yeditepe at the Faculty of Law. He graduated college in 2012. For a year he passed an internship at the well-known corporation "PricewaterhouseCoopers". Then he worked for six months as a lawyer.
Actor career
While studying at the university, Can Yaman began to attend courses in acting skills of Gyuneyt Sayil. It was just a hobby for him, because Can considered the main job as a lawyer. During the six months of the course he significantly improved the articulation and his diction in order to confidently speak in court sessions. He aspired to become more professional thanks to such skills. Now the actor recalls the words of his close friends, who were surprised that he works as a lawyer and just wastes time in the courtroom. They pushed the future actor to change his work in a coordinated way.
Behind the shoulders of a very young and charismatic actor there are three works starring in Turkish TV series. Of course, these shows do not have "the highest rating", but every actor starts his work with small, but quite confident victories.
In 2014, he participated in the filming of his first series "Affairs of the Heart" (the role of Bedir), along with more famous actresses, such as Selma Ergec or Sinem Kobal. Can recalls that he had to lose 6 kilograms to remove his too wide and muscular shoulders. "Otherwise, I would not go through the casting, and I was greatly changed in appearance. My stylist even apologized: "I'm sorry, I disfigured you." The debut turned out to be so successful that many media have long debated the candid game of this Turkish actor.
His next project was "Love out of spite", where Can successfully played the main character - businessman Yalin Aras. This series captured the hearts of the audience. In addition, at that time on the set met the performers of the leading roles of Acelya Topalogluand Can Yaman. And their working relationship gradually, but not for long, turned into romantic (according to press reports). In 2016, Can began filming in the new series "Which of us did not love?" together with actress Selen Soyder. After the end of the series "Full Moon", in which he is currently being involved, Can Yaman has already found a new project. He will play in "Wealth".
Personal life
On the set of "Love out of spite" series", Can Yaman became close with his partner, Acelya Topaloglu, who played the role of Defne. Their romantic relationships were so passionate that the couple did not hold back their emotions even on the screens. The kiss of Yalin and Defne blew up the social network and became the most discussed one among the fans of their talent.
Until recently he dated with actress Bestemsu Ozdemir. The star talks a lot about his work, but does not say anything about his personal life. In the meantime, his ex-girlfriend never concealed her happiness with Can.
Actors Can and Bestemsu dated for about eight months, but in December, 2017 the actress announced that they broke up. At the gala premiere of the film "The Lord of the Gulls", Bestemsu Ozdemir responded to the reporters' questions about Can Yaman: "Do not ask me any more about Mr. Yaman, we broke up, I say this, since you used to see us together. No third parties met between us, simply we did not get along. There is nothing to talk about, so both sides know what they went through, my conscience is clear, it just did not work out."
Although only a couple of weeks ago Bestemsu Ozdemir said that Jan Yaman and she never quarreled: "Even if we argue, we find the middle ground. If one of us is nervous, the other one tries to smooth the situation. We do not let the problems grow."
Hobbies
We can say that the hobbies of this talented actor are still really diverse. He is fluent in English, German, Italian and Turkish of course. Can is fond of basketball, table tennis, rafting, badminton. He likes to play musical instruments (pianoforte, guitar). The uncle of this young actor was the coach of the Besiktas team, which is why Can is an excellent player in football and basketball. By the way, in the institute he even received an advanced scholarship for an excellent game in the student basketball team. Now he has a personal fitness program, and he does not apply any food additives for muscle building. He likes to eat delicious food. Can Yaman loves sport dances and he is really incredibly plastic.