Kazakhstan women have started to capture world's male population's attention in recent years. Perhaps the reason is that only lately it has been discovered that Kazakhstan is not only a marvelous country of beautiful nature, but also of not less beautiful women. This country turns out to be really very unique when it refers females living here. And the reason is that females here are very diverse in everything including their appearances, religions, worldviews, ways of thinking and intelligence development levels.
So let us discover who is a Kazakh woman point by point:
Perhaps the first aspect to consider is their diverse appearances. About the half of Kazakhstan female population has Asian or Mongol appeal traits. With slightly slant eyes, dark brown hair, short height and tanned skin these females can magnetize any man who isn't indifferent toward a real exotic beauty. These women usually also feature plump lips and high cheekbones that make them even more alluring and sexually appealing.
However, the other half of Kazakhstan female population has features of a Russian type. That is they have different hair and eye colors, are quite taller and have pale skin complexion. Accordingly, irrespective of the type you prefer, if you are a bachelor in a search of a woman of your dreams be sure you will meet her particularly in Kazakhstan.
Another important descriptive aspect to consider concerning Kazakhstan women is their sweet and enchanting femininity. You can hardly ever find a woman who will not exude femininity and sexuality. These ladies know well how to dress, do hair and apply make up to accentuate their natural beauty and add extra chic to their looks. They love to pack their perfect curvaceous yet slender bodies in tight clothing to appear even more charming and intriguing. Being in perfect state is a part of their culture.
Kazakhstan women are highly educated and intelligent. Approximately 70% of women living here have a higher degree. This leads to most high profile positions in the workforce occupied particularly by women. The reason of this statistics is not only women's high intelligence or professionalism, but also the high level of alcoholism within male population in Kazakhstan.

Kazakhstan women

, however, have not only beautiful appearance but also beautiful essence. These females are very hospitable and can easily makes friends with strangers letting them into their social groups. They fully trust and devote to people until their trust has been exploited.
Nevertheless, taking into consideration the fact that about 70% of people living in this country are Muslims (Sunni), the greatest part of women practice Muslim faith, too. Accordingly, if you wish to capture a Kazakh woman's heart, you are to bare the following few aspects:
First of all if the Kazakh woman you like is Muslim, you are to be, too. Otherwise you have absolutely no chances!
Perhaps all Kazakhstan females prefer good looking men. Make sure you appear in front of her eyes with an elegant stylish appeal, well groomed and in a good body physical state.
With alcoholism spread among the greatest part of male population in the country, Kazakhstan women try to stay from this collapsing statement a far as possible. Accordingly, if you are an alcohol addict a Kazakh woman will not take you seriously.
25. Janna Jumalieva is a Miss Kazakhstan 2010. The winner of the title "The Best Top Model" at the international competition "Miss World 2011". It entered the Top 15 most beautiful girls in the world out of 122 representatives.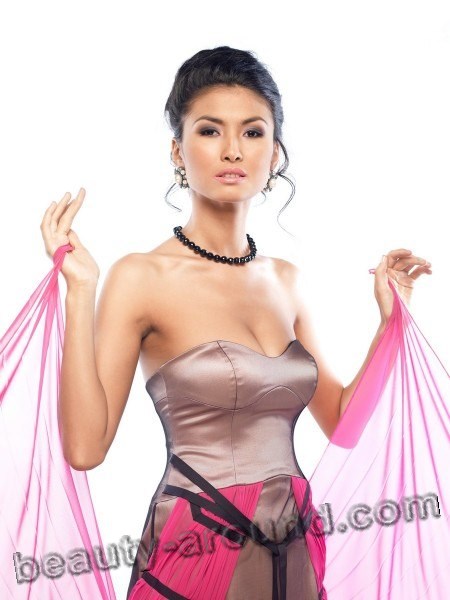 24. Madina Sadvakasova (September 8, 1979, Alma-Ata) is a Kazakh pop singer.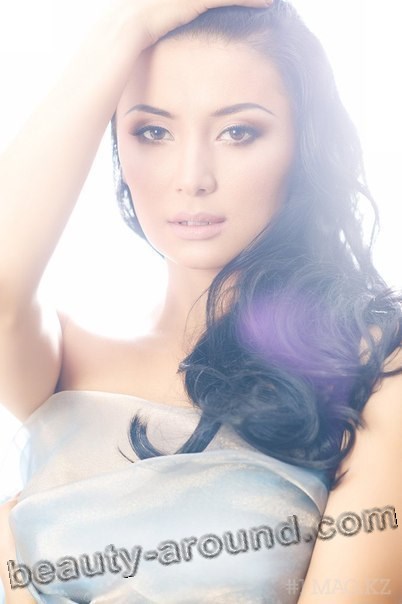 23. Makpal Isabekova (February 21, 1984, Kazakh SSR, USSR) is a Kazakh pop singer. It gained popularity as a member of «SuperStar KZ» project, which has become a famous pop star.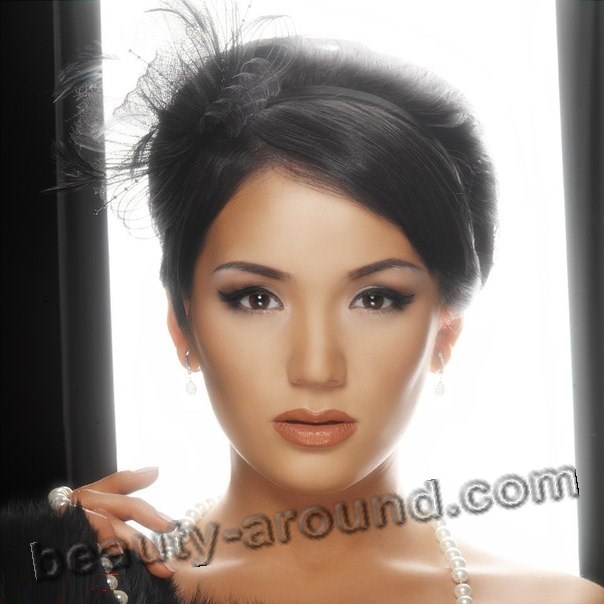 22. Assem Zhaketayeva (1992) is a Kazakh singer and actress.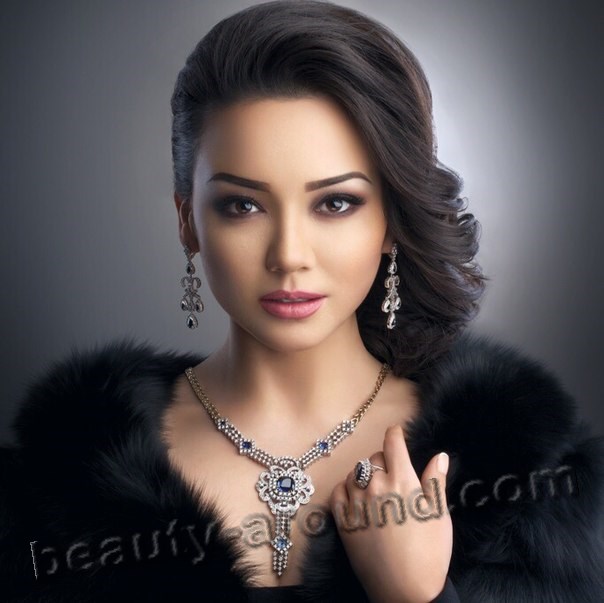 21. Dinara Baktyubaeva (November 17, 1993 g) is a Kazakh actress.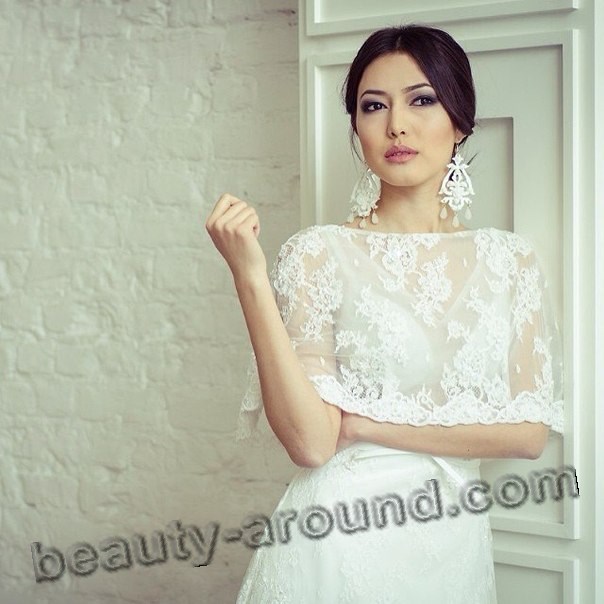 20. Jania Dzhurinskaya (6 December 1990, Baykonkur) is a Kazakh actress.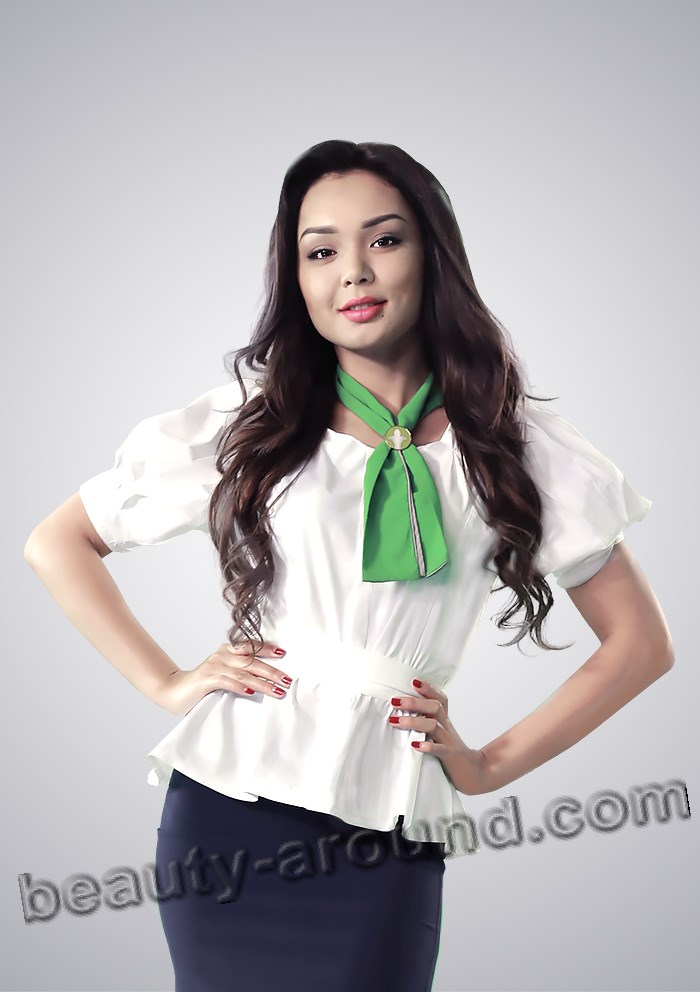 19. Saya Orazgalieva (January 7, 1988) is a Kazakh singer, actress.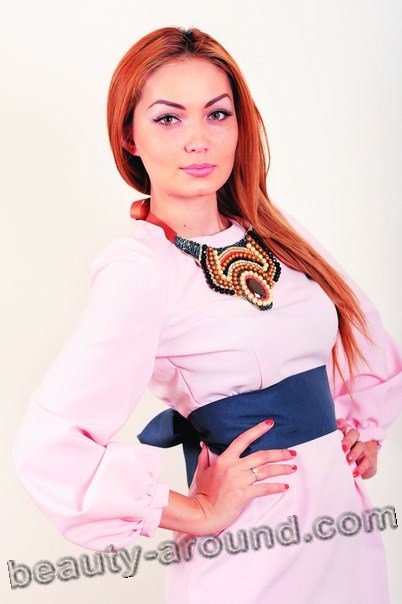 18. Anelia Moor (December 19, 1992, Kazakhstan) is a German model, has Kazakh roots on his mother's side. Participant 7 cycle show Germanys Next Top Model.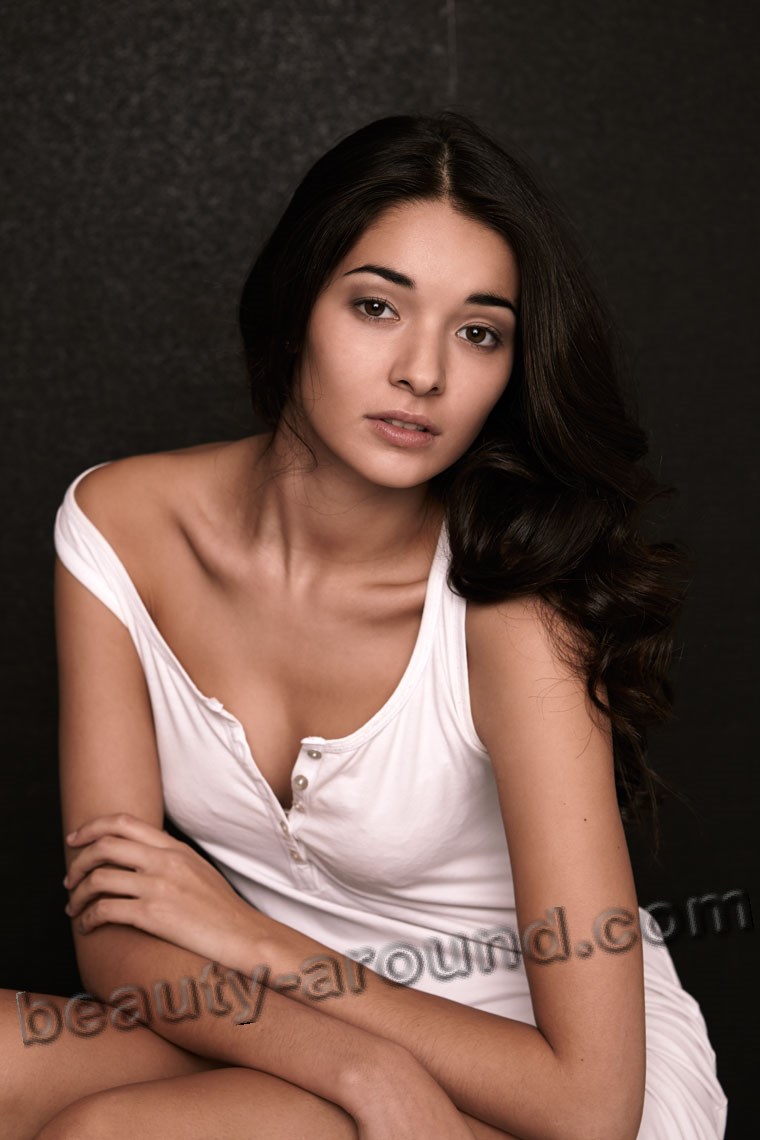 17. Arujan Djazilbekova (June 25, 1986 Almaty, Kazakhstan) is a Kazakh actress and model. In 2004, she won the Ford Models Supermodel of the World.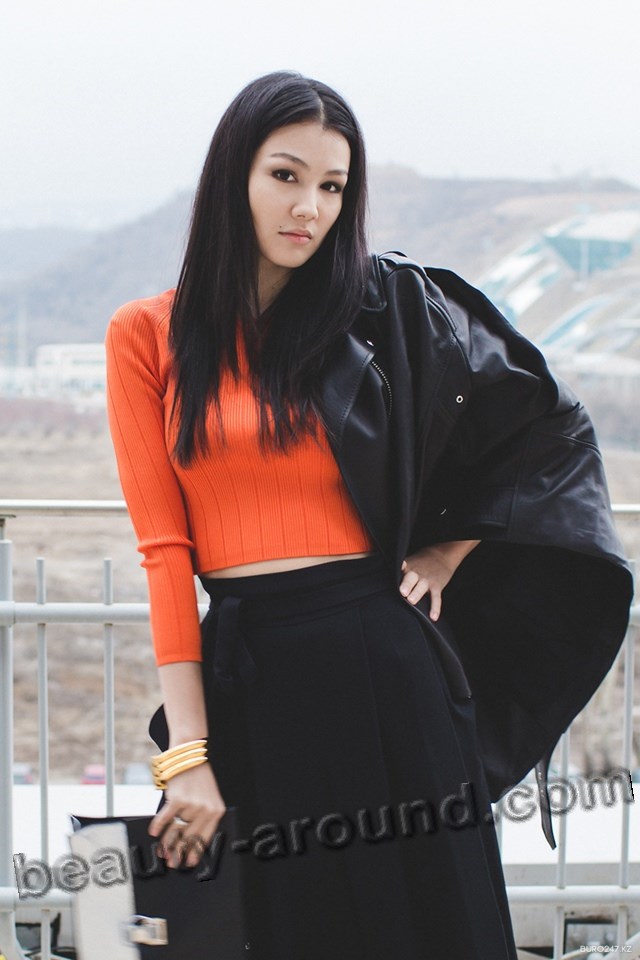 16. Aliya Telebarisova (April 30, 1993) is a Kazakh singer, actress.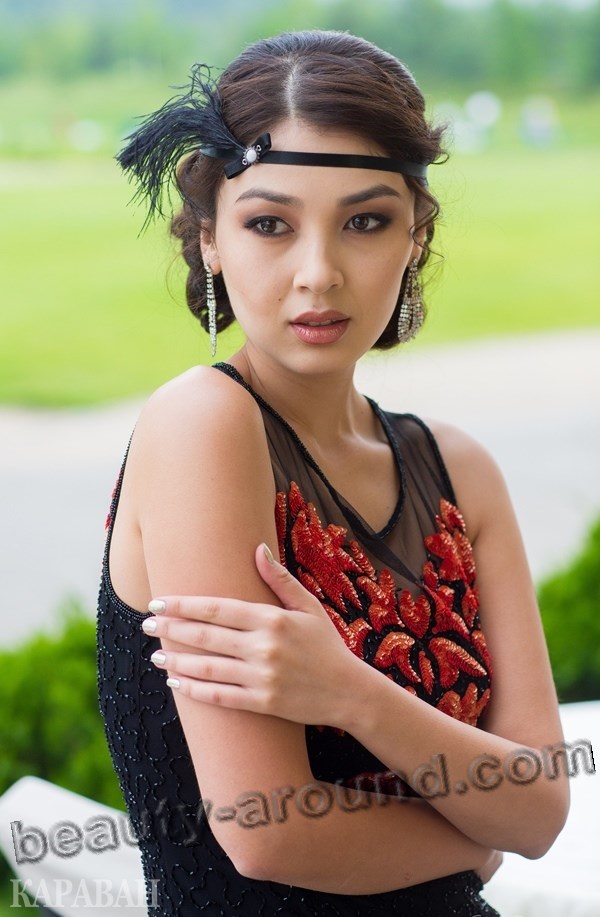 15. Madina Saibulatova (1988) - II runner-up "Fashion model of the world" in the contest Miss All Nations-2015. It represents Kazakhstan at the contest "Miss Tourism" (Miss Tourism International-2014).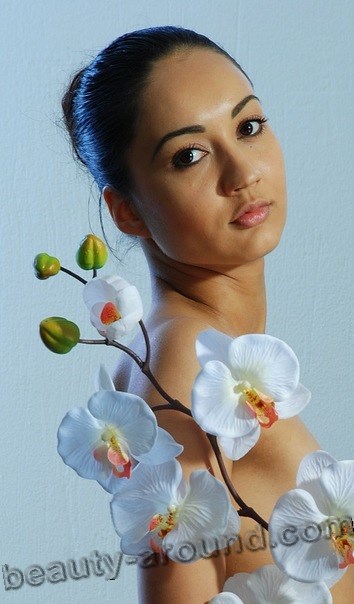 14. Aida Ayupova (October 25, 1970, Almaty, Kazakhstan) is a Kazakh violinist, laureate and winner of national and international competitions. See also: Most beautiful female musicians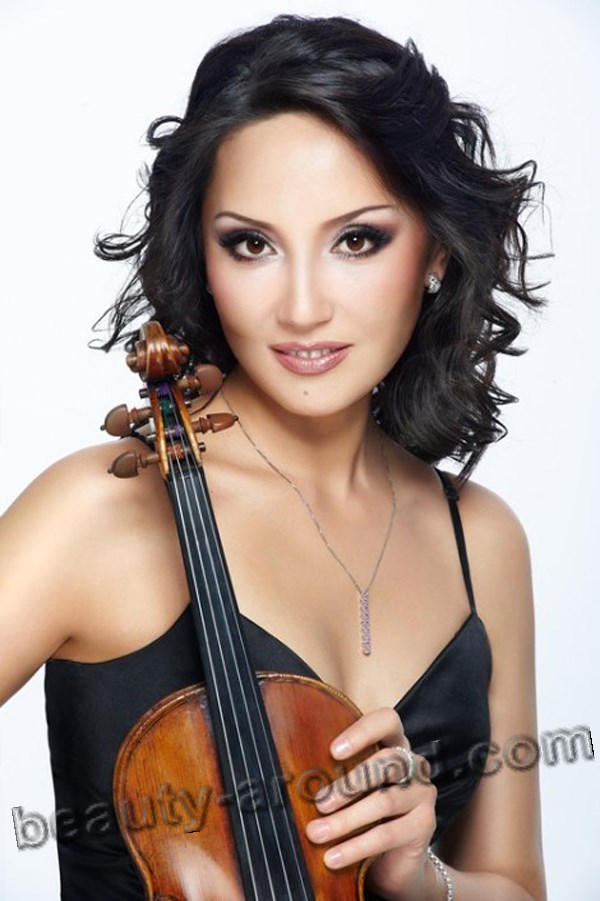 13. Saltanat Bekjigitova (1993) is a winner of the annual beauty contest online "Miss.Kz-2013", as well as "Miss Almaty-2010" and "II of Vice-Miss Kazakhstan-2010", took part in beauty contests such as Top Model Asia-2009 Miss Fashion TV-2012. Was leading on TV HitTV, is currently in the program "Revue" on TV channel NTK.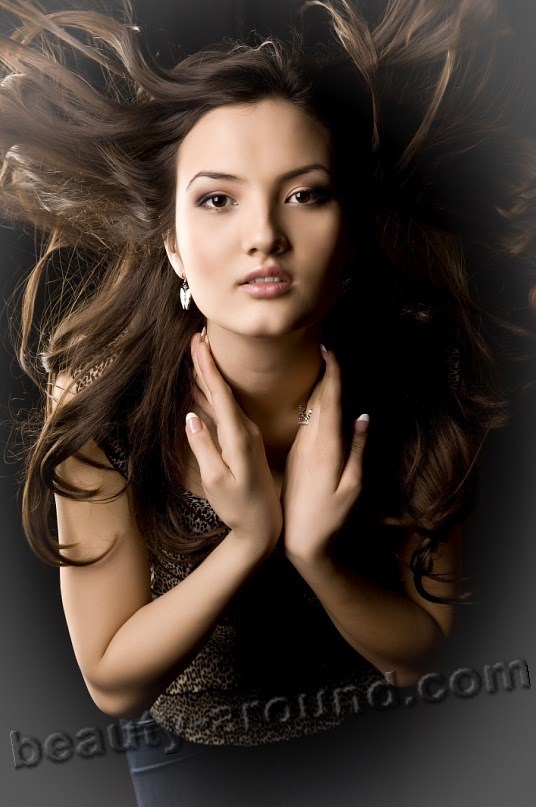 12. Aidana Medenova (September 28, 1991, Semey, Kazakhstan) is a Kazakh singer and actress.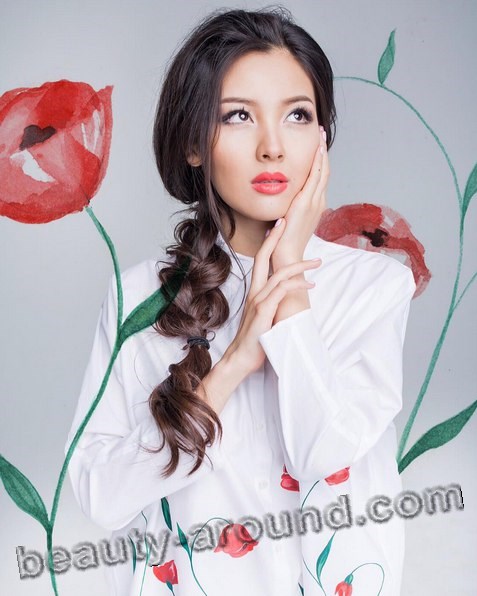 11. Asel Akbarova (1982 Almaty, Kazakhstan) is a Kazakh TV presenter. See also: Most beautiful female TV-presenters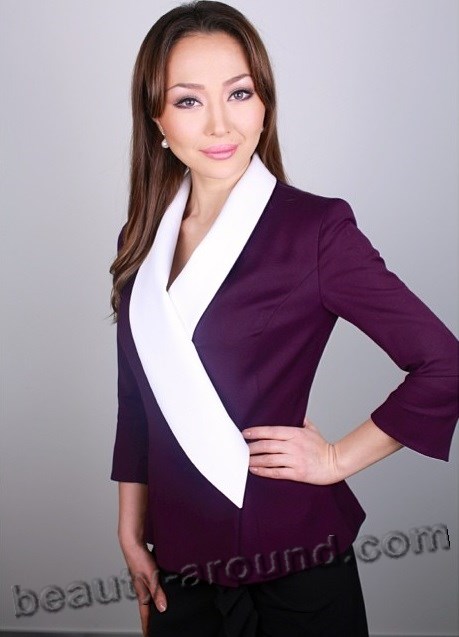 10. Asel Sagatova (May 5, 1985, Kazakh SSR, USSR) is a Kazakh actress and model.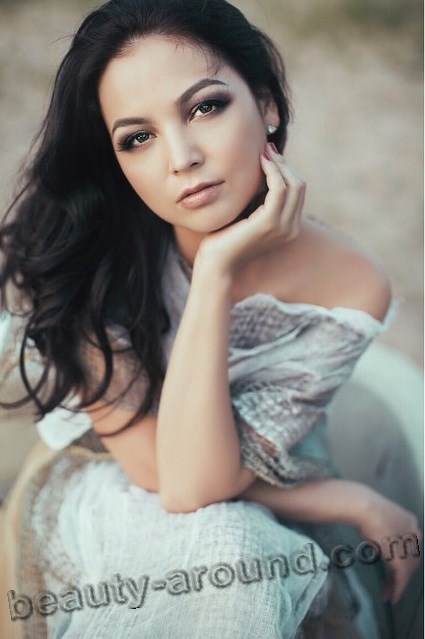 9. Bibigul Suyunshalina (July 4, 1991, Kazakhstan) is a Russian actress of Kazakh origin. The former model.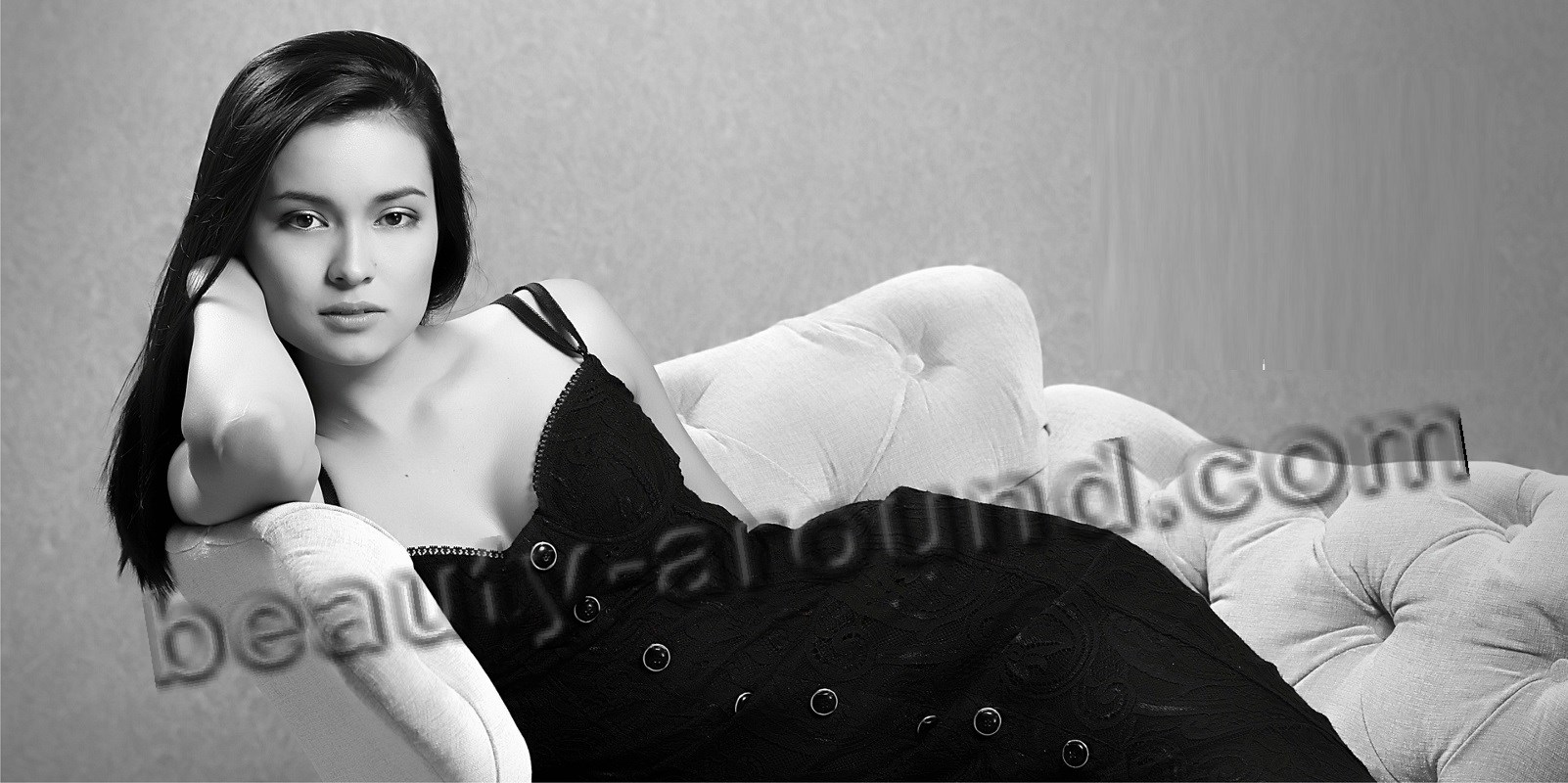 8. Asha Matai (real name - Akbota Askarbekova) (born 1988 Alma-Ata) is a Kazakh singer and actress.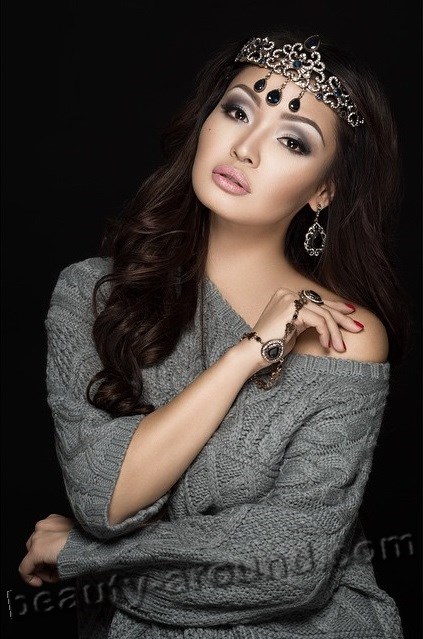 7. Karligash Muhamedjanova (July 22, 1983, Karaganda) is a Kazakh actress.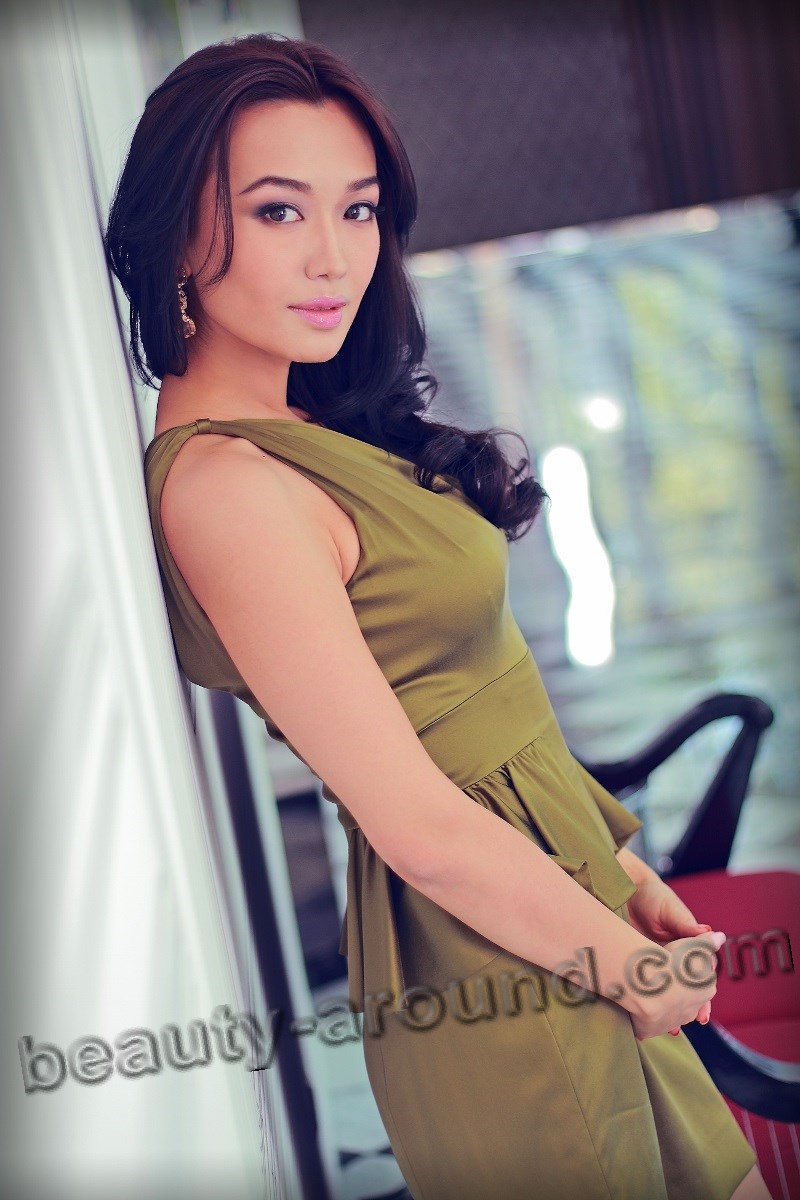 6. Kumis Bazarbaeva is a Kazakh singer, model. Miss Asian Games-2011, Miss Earth Kazakhstan 2013.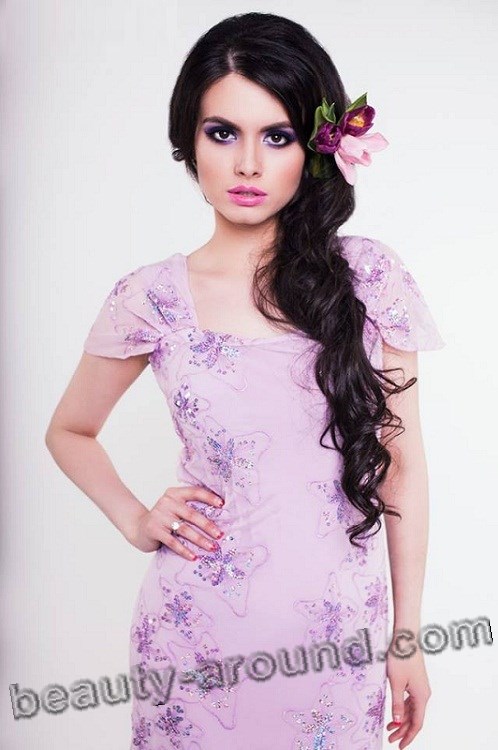 5. Diana Korkunova (December 18, 1996) is a Russian model has Kazakh roots on his mother's side. It is considered known Insta-Girl.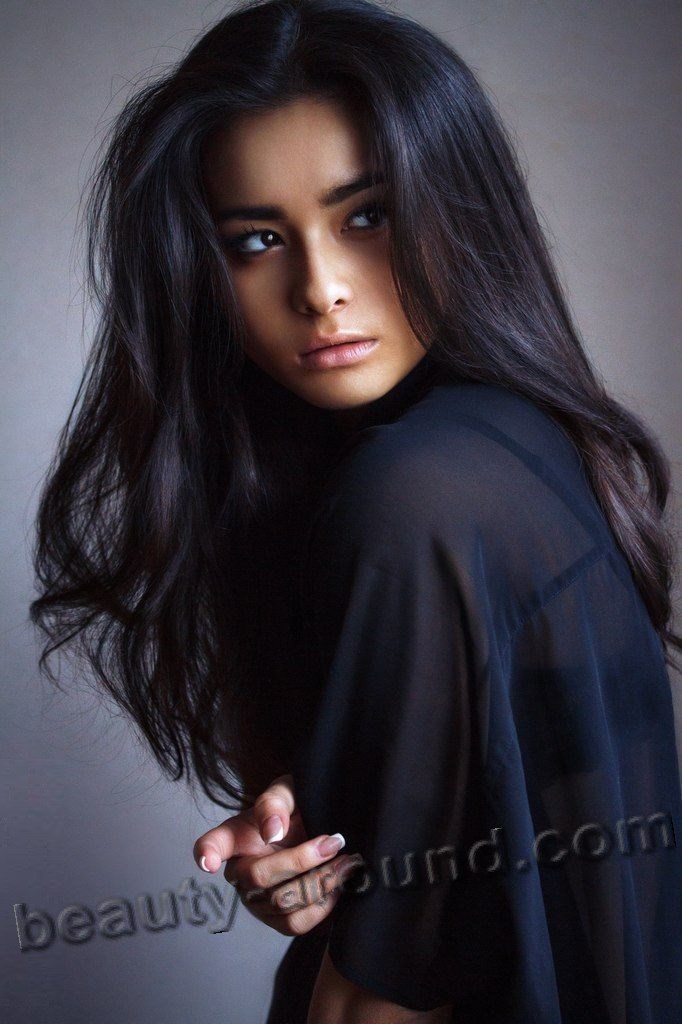 4. Ainur Toleulova (February 4, 1995) is a Miss Kazakhstan-2011.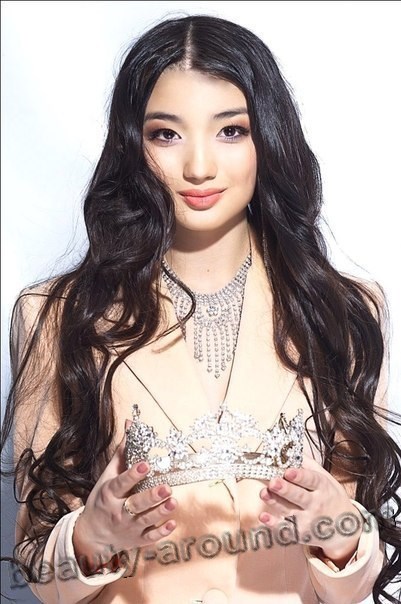 3. Almira Tyrsyanbaeva is a Kazakhstan model. As a student winner of the title "Miss KNU - 2010", "Miss Student 2010" and "Miss University 2010". Currently heads the Central Asian Congress of Business Women.
2. Aina Alieva (8 August 1988) is an Uzbek model of Kazakh origin.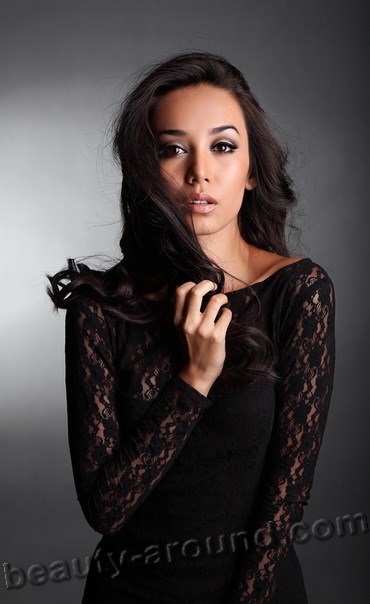 1. Bayan Esentaeva (January 9, 1974, Uralsk, USSR) is a Kazakh actress, TV presenter, singer.