Burak Deniz, a Turkish actor, was born on February 17, 1991, in Istanbul, Turkey.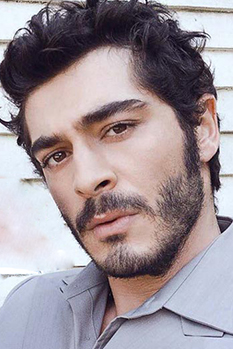 ** After payment please send screenshot of payment to email: This email address is being protected from spambots. You need JavaScript enabled to view it.

* ATTENTION: Paypal votes may be counted duaring 12 hours after payment

Share with your friends and your favorite actor (actress) will be have more votes :
Results of voting:"The best actor of Turkey"
Biography
There are almost no facts from his childhood. But still there is a fact that his parents divorced when he was a kid. All his childhood little Burak spent in Izmir. He moved to live there with his mother. And there, being a liitle boy, he definitely decided that he prefers to become an actor. He liked movies a lot and could watch popular films during hours, dreaming of acting career. For this reason, he decided on moving to Istanbul immediately after graduation his school. Here he attended various castings and studied at the university. According to proved information, he received knowledge at Canakkale Onsekiz Mart University. Immediately after graduation, the boy began to actively study art and take the necessary lessons for future acting.

There are no records or some data on his ethnicity, so better not to mention this issue. Most media sources also do not disclose information about the family of Burak Deniz. The actor himself carefully conceals any information about own family. What can be predicted for sure that once Burak Deniz will uniquely manage the film industry in his native country.
Filmography of the actor
Despite such a young age, Burak managed to achieve roles in many Turkish series, which became incredibly popular among audience and worked on one set with already famous actors. His debut role went to him in 2011 in the series of the youth direction "Diary of the College."

Burak Deniz has a fame due his role in the series Ask Laftan Anlamaz, meaning "Love does not understand words", where he magnificently played the main role. He also could get his fame thanks to the television series Tatli Kucuk Yalancilar, the Turkish variant of so popular American TV series "Pretty little liars". In 2013, not being so famous, he could appear on the television series Kacak (Fugitive) as Burak Topkuoglu.

He recently could appear on a TV show called Bizim Hikaye, meaning "Our Story". This series is really inspired by the American TV variant "Shameless". He starred there with really famous Turkish actresses Hazal Kaya. Spectators and fans of the actor could see the show on the screens in the fall 2017. In 2017, he was awarded as the best television actor by the version of the University of Adnan Menderes. As the actor says himself, he prefers playing negative characters.

If we talk about the income of Burak, then this information is not yet open. Whatever it was, he has quite a decent financial status due to such a successful career in the film industry.
Personal life
Considering facts about life of Burak Deniz, it seems that he really has hiden own private life away from the media and even all paparazzi. But still some unofficial data can confidently assert that he is married, and the wife of Burak Deniz is Bushra Devil, whom he married in 2016. But the verification of such data is not yet available, although in his page in Instagram he openly confesses his love to his beautiful darling.

There is no additional information about the facts from his personal life. More recently, Burak and his prospective wife were noticed at the events of the International Film Festival in Dubai in 2017. He keeps himself out of the gossip in the media. And still his loved one also does not participate in any crazy gossip and rumors. In addition, there are no rumors and that he, perhaps, dates with someone else.
Popularity
His biography information was published on some portals and blogs about celebrities. Also a very small page dedicated to this actor may also be found in Wikipedia. Some short videos about his biography are also available for fans on YouTube. He ranks 12559 place in the category of the most famed celebrities on the portal famousbirthdays.com. And he also is 24th in the category of those born in Turkey.

He is tantamount popular to social networks, for example Facebook, Twitter, and Instagram. Burak owns 1.6 million followers just in Instagram. He has got more than 40 000 likes on his Facebook page. Speaking of his Twitter page, he owns 90 800 followers. He is an idol for those young people who dream of a really successful career at a young age.