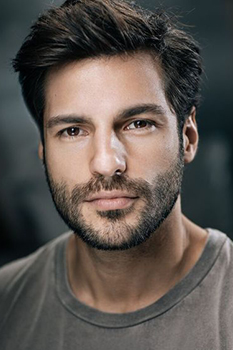 ** After payment please send screenshot of payment to email: This email address is being protected from spambots. You need JavaScript enabled to view it.

* ATTENTION: Paypal votes may be counted duaring 12 hours after payment

Share with your friends and your favorite actor (actress) will be have more votes :
Results of voting:"The best actor of Turkey"
Serkan Chayoglu is one of the talented and beautiful actors who conquered millions of women's hearts. Which way to fame had the actor passed and how he is living now?
Biography
According to sources, the boy was born on May 31 1987, in Germany. His father emigrated to this country from Turkey, when he was seven years old. His mother was born and grew up in Turkey, and just after she married she moved to live abroad. In the family, except for Serkan, his twin brother Ercan also grew up.
It is rumored that it was difficult for the mother to care about the boys, because when one began to be capricious and screaming, the second one also picked the wave up. Parents with sons often returned to their historical homeland in Turkey and spent a lot of time here. Ercan is in 6 minutes older than his brother and does not look like him at all. Serkan inherited more the features and character of the mother, and his brother looks like his father. Erkan has long been married. A guy loves his older brother and often spends his free time with him.
Career
According to sources, Chayoglu did not dream to become an actor from childhood, but it happened later after moving to Turkey. A young and handsome guy studied at the German University of Economics, but he liked an art much more. His career began with the modeling business and he is engaged in this business even today. External appearance and love of fans made him one of the most popular models in his country and abroad.
But, except for world photo sessions and shows, Chayoglu attends various courses and seminars of acting. He persistently strives to realize one more dream - to become an actor. It is rumored that such famous people as Umit Chyrak, Dolunai Soysert and Bahar Kerimoglu become his teachers. According to the media, even in his student years, his friends and he founded a small theater club, where they already began to practice acting. His goal - to become the best young Turkish actor and he is already in halfway for it.
The guy liked the country of his ancestors. After graduating from school, Serkan left Germany and was based in Turkey. He repeatedly argued that Germany is a country where people like standards, and he is too impulsive, young and full of ambition. Therefore, it is better to develop his talents in Turkey. Here he continues to work as a model and acts in film, combining two ways at the same time.
Filmography
Actor's career of Chayoglu begins with a small role in the Turkish television series "Kuzei Gyuney" (2011-2013). But the real recognition of the actor came to him after the release of the melodramatic series "Cherry season" (2014-2015). The series became successful not just in Turkey, but also in film distribution abroad. After that, Serkan received recognition in the love of millions of fans around the world.
The actor said that playing in this picture brought him pleasure and only after this role, he realized that he prefers to engage in acting for the rest of his life. He does not seek fame and high ratings, but the love of audience is very important for him.
A new film with his participation, which was released in 2016 - "The Love of my life". 2017 also brought the actor a new role. Today, fans are waiting for the premiere of the new mini-series "The Wolf", in which he is participated.
Interesting facts
A lot of sources say that Serkan loves active rest and travels a lot. And he loves books and watch interesting series. His height is about 188 centimeters, and his weight is about 84 kilograms. He also loves animals. He has a cat and a dog.
He speaks several foreign languages - German, Italian, French and English. There are rumors that the guy likes a quiet environment and really hates noisy parties. He dreams to live some time in countries such as the US, London and Paris, loves and knows how to cook well, prefers Indian cuisine. He considers his shortcomings - punctuality, accuracy and general criticism.
Personal life
There is a rumor that this young and much promising handsome guy is still along. He does not have a wife and children, and so far he is not ready for a family relationship. He has a tight schedule and time for a romantic relationship is not enough. So far, he is trying to excel in the field of cinema and modeling business. Cayoglu believes that his future wife should not correspond to the pattern and be perfect. He did not create for himself the image of the future chosen one and the main thing for him is the inner world of woman.
Although during the filming of the series "Cherry season" there were rumors that Ozge Gurel and Serkan Chayoglu dated (Ozge - his partner in the film). But in one of the interviews the actors denied all the rumors, saying that they have no mutual feelings. They are united just by friendly relations and general work in the television series. In 2017, the network had new information that they still are dating. And all because this sweet couple was seen by journalists at the premiere of the film "Endless Love". After watching, they spent the whole evening together and looked like in love.